Monthly Issue #135 December, 2018
GeeksOnTour.com | Newsletter Archives | Become a Member
Geeks on Tour is member supported. This FREE newsletter is made possible by our paid (Premium) members.  Member benefits include access to over 500 tutorial videos, asking questions on 'Ask the Geeks' forum, Show Notes for our weekly show, "What Does This Button Do?" and all our eBooks including Mrs Geek's Guide to Google Photos.
Join today
Already a member? THANK YOU! 
Members: Click Here for all Premium Content
---
Geeks in November
On November 1, we were home, but then Chris flew to California for the Google Product Experts Summit. She took advantage of the free flight from Google to take a few extra days and visit Morro Bay, and her old friend, Liz. Chris lived in Morro Bay and practiced law with Liz in 1981-83.
Check out our photo album photo album for November for more pics.
If you want to hear more about the Google Product Expert Summit, check out Michael Daniel's YouTube video. I joined Michael, who is also a Google Product Expert, and we spent about an hour chatting and sharing photos about the event. ​​​
Also see our Map and our Blog for the rest of the story.
We always continue to learn about technology! And, we share it with you on our weekly class, What Does This Button Do?
Episode 156: How to use a smartphone to scan documents and create .pdf files
By the way, our pictures, Blogs, Web Albums, maps, and videos are all examples of what we teach.  You can learn how to plan, navigate, and remember your life's events.  It makes the experience that much more enjoyable to get creative and share pictures, maps, stories, and movies with friends and family. Check out our Learning Library of Tutorial Videos, just go to GeeksOnTour.com and click the menu for Tutorials. There are plenty of free videos in addition to our members-only content to whet your appetite for learning. ​​​​​​​
---
Happy Holidays Everybody
---
December Calendar
Every Wednesday "What Does This Button Do?"
We record them in a live stream, normally on Sundays at 2pm at our local time.
When we're not doing our live show, we'll post an encore episode.
Thursday is "Gabbing With the Geeks" on Facebook Live to answer questions from viewers and discuss anything. 5pm our local time.
We're Still in South Florida. We are working on the website and videos.
We have a couple of online seminars on the calendar but only one live appearance. Holidays are upon us.
Here's our speaking request form if you'd like to have us speak to your group.
​​​Upcoming Appearances
December 2018
12/13 Platina Computer Club in Boynton Beach, FL
We're clearing our calendar to take a trip to
Australia and New Zealand for part of January and
all of February. Stay tuned for photos!
Subscribe to our YouTube Channel for notifications of Live Streams from Geeks On Tour! Be sure to click the little bell to confirm delivery of notifications.
Like our Facebook Page for notifications to see us Live whenever we like.
---
"Ask the Geeks" Q&A Forum
Here are some of the topics that have been discussed recently. Anyone can read the forum, only members can ask questions. This is a valuable benefit of membership. Join Today!
If you are a member, ask a question! Go to GeeksOnTour.com then click the Q&A menu. Make sure you are logged in (there's a form on the Q&A page), select a category (Photos, Maps, Blogs, Other) then click Add Topic. When finished scroll down to Submit Topic.
---
Traffic on Google Maps or Waze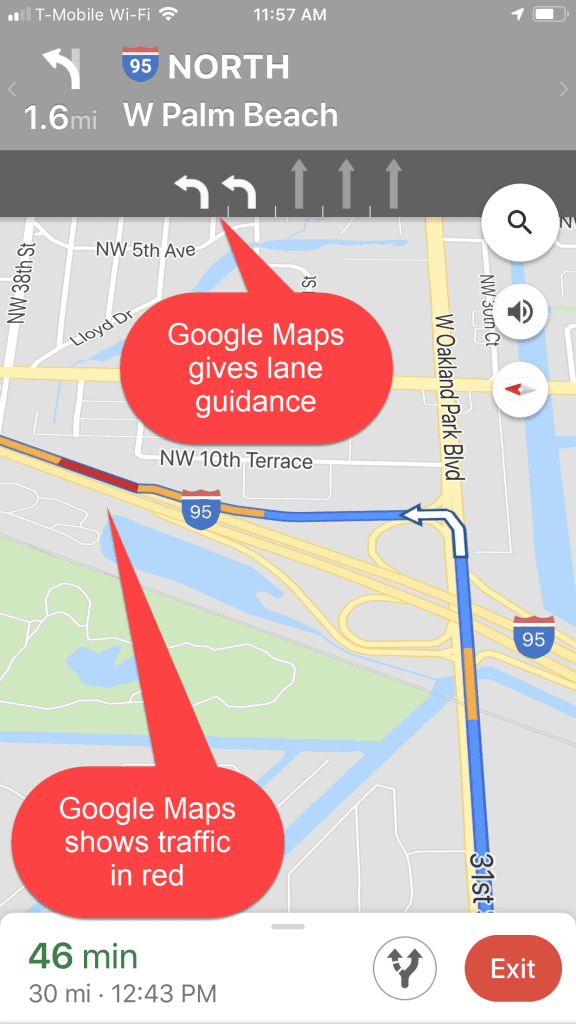 Both Waze and Google maps can give you turn-by-turn voice directed navigation.
Waze also adds real-time crowdsourced road information including traffic, road hazards and police locations.
I've had people tell me that they prefer Waze to Google Maps because Waze gives information about traffic.
Hey! So does Google Maps.
---
How to use Depth Editor and Color Pop in Google Photos
Have you ever wished you could make a photo of a flower, or a person, really stand out – with the main subject in color and the rest in black and white?
Now you can!
It's called Color Pop, and it is a new feature from our friends at Google Photos. It was announced along with Live Albums on Google's product blog on October 9, 2018. At the time it was only available on the Pixel phone, but it has arrived on the iPhone now as well.
---
How to trim your videos on your phone
You don't want to miss a second of your granddaughter's graduation ceremony, so you start the video camera rolling as she's walking up to the stage. Now you wish you hadn't done that! Nobody wants to watch the 3 minutes of her walking, they just want to see her step onto the stage and get her diploma.
Learn how you can accomplish this, right on your phone, by reading this short article.
---
Leave us a Review
Have you learned something from Geeks on Tour?
If so, we'd love to get a review from you. Click on this link
---
How to share your location with Google Maps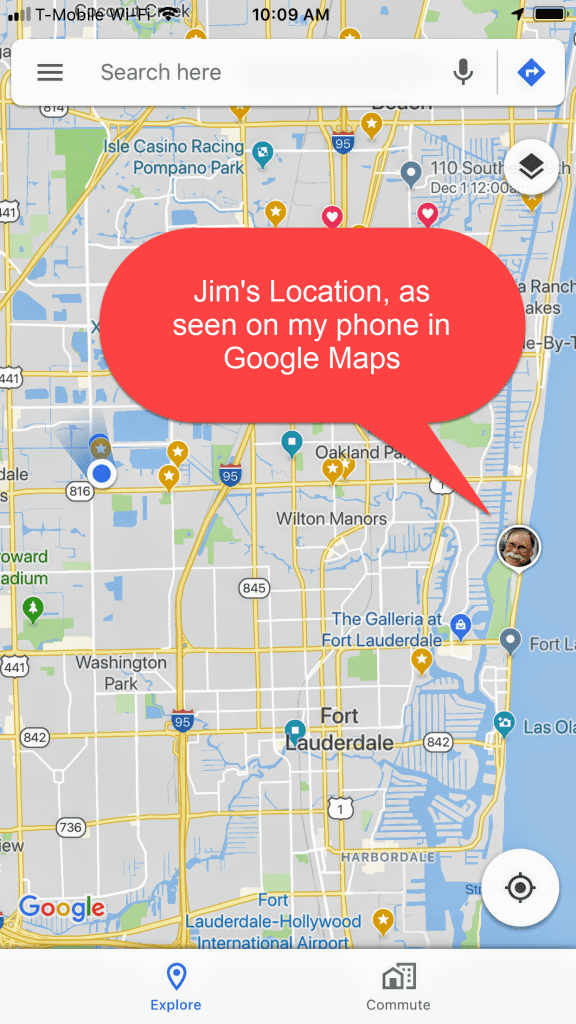 With these smartphone/GPS devices in our pockets all the time, there are now many different ways to share your location. Apple has the "Find my friends" app, Facebook messenger (and many other texting apps) have a button to "Send Location." If you're like me and my husband, we like to make it easy and just let each other know where we are at all times. It's easy with Google Maps.
Maybe you're a fulltime RVer with kids who worry about you a lot. Rather than calling them every day, you could let them see your position on a map that they could look at as often as they like.
You should still call once in a while, OK?
It's easy to set this up …
Click here for more Articles by Geeks on Tour

That's all for now. We hope you learned something. Your next issue will be next month. Any questions, please visit our forum. If you like this newsletter, please forward it on to your friends! If you received this issue forwarded by a friend you can subscribe to get your own copy delivered to your in box – it's free. You can also visit the archives of past newsletters,
Happy Computing!
Sincerely,
Geeks on Tour