Monthly Issue #133 October, 2018
GeeksOnTour.com | Newsletter Archives | Become a Member
— Geeks on Tour is member supported. This FREE newsletter is made possible by our paid (Premium) members.  Member benefits include access to over 500 tutorial videos, asking questions on 'Ask the Geeks' forum, Show Notes for our weekly show, "What Does This Button Do?" and all our eBooks including Mrs Geek's Guide to Google Photos.
Geeks in September
September started in Tulsa, Oklahoma, where we were surprised to discover a wonderful aquarium.  We were headed to Goshen, Indiana for the Discovery Owners rally. We stopped along the way in Springfield, Illinois – staying in the exact same site we had a couple months ago at the fairgrounds. Weird.
After that rally, we headed south to the next rally – The RV Travel Club – in Sevierville, TN. Along the way we stayed at a very nice park in Rocky Top, Tennessee – really! And, we visited the museum of Appalachia – that is pictured above. See our photo album for September for the results. That's it for September – still at the RV Travel Club rally.
​​Also see our Map and our Blog for the rest of the story.
We always continue to learn about technology! And, we share it with you on our weekly class, What Does This Button Do?
Episode 152: International Trip Planning
Episode 153: Our favorite smartphone apps with guests Eric and Tami of TechnoRV.com
​​​​​​​By the way, our pictures, Blogs, Web Albums, maps, and videos are all examples of what we teach.  You can learn how to plan, preserve, and share your travels (or your life.)  It makes the experience that much more enjoyable to get creative and share pictures, maps, stories, and movies with friends and family. Check out our Learning Library of Tutorial Videos, just go toGeeksOnTour.com and click the menu for Tutorials. There are plenty of free videos in addition to our members-only content to whet your appetite for learning. ​​​​​​​
---
October – November Calendar
Every Wednesday "What Does This Button Do?"
We record them in a live stream, normally on Sundays at 2pm at our local time.
When we're not doing our live show, we'll post an encore episode.
Thursday is "Gabbing With the Geeks" on Facebook Live to answer questions from viewers and discuss anything. 5pm our local time.
We're in Sevierville, TN. We presented three seminars last week for The RV Travel Club Rally. Plus Chris did several one-on-ones.
Here's our speaking request form if you'd like to have us speak to your group.
​​​Upcoming Appearances
October 2018
November 2018
11/1 – 11-7 Chris will be at Google in California for a conference
11/8 7pm Valencia Falls Business Panel. Delray Beach, FL
11/19 7pm Bellagio  Boynton Beach, FL
11/26 Valencia Reserve Presentation (not confirmed)
​​​​​​​Subscribe to our YouTube Channel for notifications of Live Streams from Geeks On Tour! Be sure to click the little bell to confirm delivery of notifications.
Like our Facebook Page for notifications to see us Live whenever we like.
---
"Ask the Geeks" Q&A Forum
Here are some of the topics that have been discussed recently. Anyone can read the forum, only members can ask questions. This is a valuable benefit of membership. Join Today!
If you are a member, ask a question! Go to GeeksOnTour.com then click the Q&A menu. Make sure you are logged in (there's a form on the Q&A page), select a category (Photos, Maps, Blogs, Other) then click Add Topic. When finished scroll down to Submit Topic.
---
How to keep your Facebook account safe
I wrote this article over four years ago, but with Facebook, everything old is new again. I have reviewed and updated all the information. The scam that is going around today is that you've been "hacked" because your friends are getting new friend requests from you. They aren't. Don't copy and paste that rumor, it's just meaningless graffiti that someone else copied and pasted.
However, we think this should prompt you into checking your privacy settings. It is quite easy to prevent the "friend request hack" from ever happening just by making your friend list private. This article tells you how. Plus more general privacy and security settings.
---
Google Photos can make a phone call from a photo of a business card
For years, I've wanted a simple system for storing business cards people give me along my travels. The operative word is simple! Sometimes they're important, like my insurance agent's card, and sometimes it's just friendly, like the camper next door who tells us to stop by if we ever pass near their home. Sometimes it's just a scrap of paper with a name and phone number written on it!
I think the answer is a Google Photos album for business card photos.
Read the article and let me know if you agree.
---
Mounting phones and tablets to your dashboard
This is how we mount our devices on the dash as we travel. One phone and one tablet are always navigating.
---
Smartphone Help Desk – One on One Teaching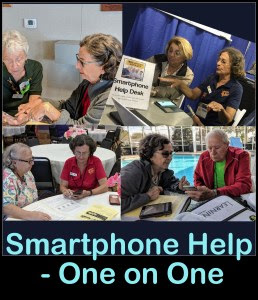 If you've attended a rally where Geeks on Tour were presenting, you may have seen Chris (aka Mrs. Geek) sitting with someone and teaching them about their smartphone.
Sometimes the questions are easy like: how to use their fingerprint reader, how to adjust their screen timeout setting, how to install my favorite app: Google Photos, or how to use the keyboard to type word by word – called swiping or gliding.
Sometimes the questions are hard, like: why does my iPad not automatically connect to the data on my iPhone like it's supposed to? or How do I get back in to my original Facebook account when I forgot the password and mistakenly created another account?
---
Mrs. Geek's Guide to Google Photos now available on Amazon.
---
Leave us a Review
Have you learned something from Geeks on Tour?
If so, we'd love to get a review from you. Click onthis link (then scroll down to reviews if needed) First you'll be asked for a rating by stars – 5 is appreciated! Then, please write some comments. Did you learn from us in person? or from videos on our website? Do you watch our weekly What Does This Button Do show? Do you learn from our newsletters? How has your use of technology improved?
THANKS​​​​​​​
Click here for more Articles by Geeks on Tour
That's all for now. We hope you learned something. Your next issue will be next month. Any questions, please visit our forum. If you like this newsletter, please forward it on to your friends! If you received this issue forwarded by a friend you can subscribe to get your own copy delivered to your in box – it's free. You can also visit the archives of past newsletters,
Happy Computing!
The Geeks on Tour website is an online learning library for Travelers who want to learn to use their computers and mobile devices for managing digital photos, making blogs, using maps and other online resources. Anyone can get our free weekly tech lesson, read articles on our Computer Tips for Travelers Blog, sign up for our free newsletter. A small fee makes you a 'member' and you can then ask us anything on our Q&A page, view any of our 500+ video tutorials on these subjects in our Learning LIbrary, and get written notes and eBooks of our lessons.
Sincerely,
Geeks on Tour