Monthly Issue #128 May, 2018
GeeksOnTour.com | Newsletter Archives | Become a Member
— Geeks on Tour is member supported. This FREE newsletter is made possible by our paid (Premium) members.  Member benefits include access to over 500 tutorial videos, asking questions on 'Ask the Geeks' forum, Show Notes for our weekly show, "What Does This Button Do?" and all our eBooks including Mrs Geek's Guide to Google Photos.
​​​​​​​Join today
Already a member? THANK YOU!
Members: Click Here for all Premium Content
---
Geeks in April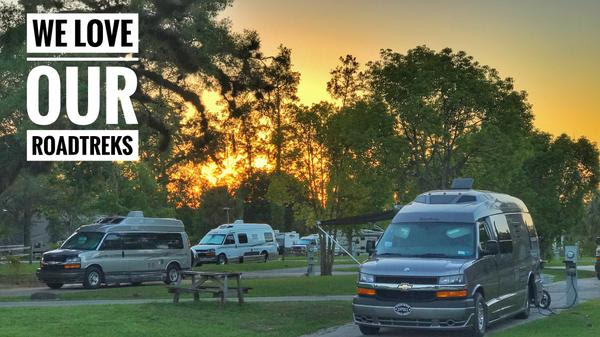 Mid April we went to the Roadtrek rally in Silver Springs, Florida. Then we flew to Las Vegas for the WARE rally – Western Area Rally for Escapees. We extended our stay and hoped to do some sightseeing in Las Vegas, but we both caught colds and just stayed in bed in the hotel for 3 days.
See our April photo album for more pictures, and our Blog for the rest of the story.
We always continue to learn about technology! And, we share it with you on our weekly class, What Does This Button Do? We recorded two new episodes in February:
By the way, our pictures, Blogs, Web Albums, maps, and videos are all examples of what we teach.  You can learn how to plan, preserve, and share your travels (or your life.)  It makes the experience that much more enjoyable to get creative and share pictures, maps, stories, and movies with friends and family. Check out our Learning Library of Tutorial Videos, just go to GeeksOnTour.com and click the menu for Tutorials. There are plenty of free videos in addition to our members-only content to whet your appetite for learning.
---
April-May Calendar
Every Wednesday "What Does This Button Do?"
We record them in a live stream, normally on Sundays at 2pm ET.
When we're not doing our live show, we'll post an encore episode.
Thursday is "Gabbing With the Geeks" on Facebook Live to answer questions from viewers and discuss anything. 5pm ET.
We're in Las Vegas for the WARE rally which just finished. We flew out here from Fort Lauderdale. We have a dive trip to Bimini in May and another dive trip at the end of June.
Here's our speaking request form if you'd like to have us speak to your group.
May 2018
​​​​​​​June 2018
Subscribe to our YouTube Channel for notifications of Live Streams from Geeks On Tour! Be sure to click the little bell to confirm delivery of notifications.
​​​​​​​Like our Facebook Page for notifications to see us Live whenever we like.
---
'Ask the Geeks' Q&A Forum
Here are some of the topics that have been discussed recently. Anyone can read the forum, only members can ask questions. This is a valuable benefit of membership. Join Today!
If you are a member, ask a question! Go to GeeksOnTour.com then click the Q&A menu. Make sure you are logged in (there's a form on the Q&A page), select a category (Photos, Maps, Blogs, Other) then click Add Topic. When finished scroll down to Submit Topic.
---
When you lose your phone, you'll wish you had done this!
On both Android and iOS devices there is a website to find a lost phone. For Apple iOS, it is iCloud.com and for Android it's Google.com/android/find (or I just do a Google search for "Find my android") We teach this in many of our seminars, mainly as a way to point out the importance of knowing the account and password associated with your phone. See Episode 137 for more on finding your username and password and a demonstration of find my phone.
If you know the username and password for your phone, you can go to the website above, using any computer, and find your phone. You will see a map, with the location pinpointed, and you will have 3 choices,
1. Play a sound: to locate your phone if it is nearby
2. Lost mode: to lock the screen and display a message with a phone number where the owner can be reached
3. Erase phone: if you think it has been stolen
But, none of the above will work if you have not turned on the setting for your phone first. So, how about taking out your phone right now and making sure your "find my phone" setting is on.
---
Google Photos Backup is gone, now it's Google Backup and Sync
The transition from Google Photos Backup to Google Backup and Sync has been going on for a while. We first covered it in Episode 125 of our "Button" show, Google Photos, what's new?And, again in Episode 138: Google Photos: How to include pictures from your computer. And, here is the official help page on Backup and Sync.
What you need to know
This only affects your computer, not your mobile devices. Backup and Sync is the desktop software that will automatically upload photos from your computer's drives to your Google account in the cloud.
You only need this if you have a lot of photos on your computer. If you just have a few, it is easy to manually upload them to your Google Photos account, don't bother with Backup and Sync.
If you do have thousands of pictures on your computer that you want uploaded to your Google Photos account, then you want the free …
---
Using your smartphone for airplane boarding passes is not always ideal, here's a tip!
I may love technology, but I hate fumbling with my phone when I'm holding up a line of people. This is one area I prefer the old fashioned method. I want a printed boarding pass.
There's just no doubt that I can carry that in my pocket and get it out at the appropriate time for the attendant to scan, without holding anybody up. If I'm depending on my phone to display this code, odds are it will display perfectly until I'm the next person to reach the attendant, then my screen will blank out.This is default placeholder text. Edit and replace with whatever you want.
The e-ticket is great it you can't get a printed copy though … so I have a tip for you …
---
Leave us a Review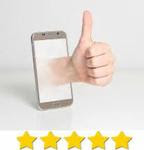 Have you learned something from Geeks on Tour?
If so, we'd love to get a review from you. Click on this link and then scroll down until you can click on Write a Review. First you'll be asked for a rating by stars – 5 is appreciated! Then, please write some comments. Did you learn from us in person? or from videos on our website? Do you watch our weekly What Does This Button Do show? Do you learn from our newsletters? How has your use of technology improved?
THANKS!
---
Click here for more Articles by Geeks on Tour

That's all for now. We hope you learned something. Your next issue will be next month. Any questions, please visit our forum. If you like this newsletter, please forward it on to your friends! If you received this issue forwarded by a friend you can subscribe to get your own copy delivered to your in box – it's free. You can also visit the archives of past newsletters,
Happy Computing!
The Geeks on Tour website is an online learning library for Travelers who want to learn to use their computers and mobile devices for managing digital photos, making blogs, using maps and other online resources. Anyone can watch our free videos, read articles on our Computer Tips for Travelers Blog, sign up for our free monthly newsletter. A small fee makes you a 'member' and you can then view any of our 450+ video tutorials on these subjects in our Learning LIbrary.
Sincerely,
Geeks on Tour