Trouble reading this email? View online: Link to all newsletters online
Monthly Issue #127April, 2018
GeeksOnTour.com | Newsletter Archives | Become a Member
— Geeks on Tour is member supported. This FREE newsletter is made possible by our paid (Premium) members. Member benefits include access to over 400 tutorial videos, asking questions on 'Ask the Geeks' forum, Show Notes for our weekly show, "What Does This Button Do?" and all our eBooks including Mrs Geek's Guide to Google Photos.
​​​​​​​Join today
Already a member? THANK YOU!
Members: Click Here for all Premium Content
Geeks in March
Mid March we went to the FMCA Convention in Perry, Georgia. Then we were back home for the end of March. The weather finally cooperated enough to let us go kayak diving on the last day of lobster season.
​See our March photo album for more pictures, and our Blog for the rest of the story. And, here's an old Blog post about kayak diving
We always continue to learn about technology! And, we share it with you on our weekly class, What Does This Button Do? We recorded two new episodes in February:
By the way, our pictures, Blogs, Web Albums, maps, and videos are all examples of what we teach. You can learn how to plan, preserve, and share your travels (or your life.) It makes the experience that much more enjoyable to get creative and share pictures, maps, stories, and movies with friends and family. Check out our Learning Library of Tutorial Videos, just go to GeeksOnTour.com and click the menu for Tutorials. There are plenty of free videos in addition to our members-only content to whet your appetite for learning.
---
April-May Calendar
Every Wednesday "What Does This Button Do?"
We record them in a live stream, normally on Sundays at 2pm ET.
When we're not doing our live show, we'll post an encore episode.
Thursday is "Gabbing With the Geeks" on Facebook Live to answer questions from viewers and discuss anything. 5pm ET.
We're in South Florida getting ready for Summer Travels. We're flying to Las Vegas for the WARE rally. All other travel is by RV except for a dive trip to Bimini in May!
Here's our speaking request form if you'd like to have us speak to your group.
April 2018
May 2018
Subscribe to our YouTube Channel for notifications of Live Streams from Geeks On Tour! Be sure to click the little bell to confirm delivery of notifications.
​​​​​​​Like our Facebook Page for notifications to see us Live whenever we like.
---
Here are some of the topics that have been discussed recently. Anyone can read the forum, only members can ask questions. This is a valuable benefit of membership. Join Today!
---
Smartphone Photography class
Do you like the photo on the right? If so, do you know how to do that with your phone?
I took both photos with my iPhone 7 Plus. The one on the right used the camera setting called "Portrait" to keep the flowers in focus and blur the background. Not all phones have this feature, but many do. On your phone it may be called Lens Blur, or Live Focus. It may be something that you see as you take the photo, or it may be something you adjust after the photo is taken.
Notice the class in our calendar above, May 25 and 26 in Sedalia, Missouri. It's called Camp Reboot because it's about technology. This class is all about using the camera on your smartphone.
---
Bad news about Picasa, but we were warned
How do you upload photos from your computer to Google Photos?
If you're still using Picasa to do this, you're in for a rude awakening next time you try to click that green button – or any option for "Upload."
---
Travel by spaceship – using green screen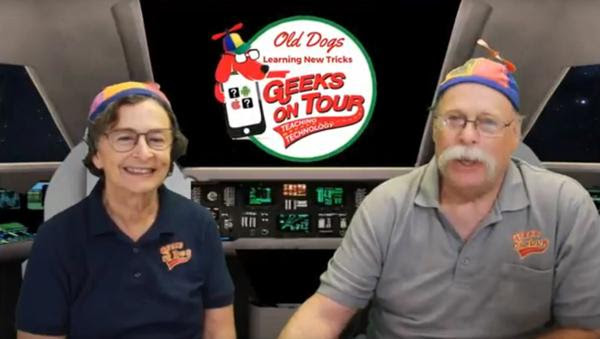 We have our own personal shuttlecraft for virtual travels anywhere, even outer space! Learn a little bit about how Jim creates our ride in this article.
---
Stop searching and start finding
You know how to do a Google search, but that searches the entire web! What if you want to find something on a page?
For example, if you go to the Geeks on Tour page that lists our 139 weekly shows, it will take you a while to find the one on setting up a Chromecast.
Learn how to Find!
---
GeeksOnTour.com Website Tips
We're updating the website all the time. There are nearly 1,000 articles, 500 videos, and 132 What Does this Button Do Episodes. How do you find what you want? Here are some tips on how to get to the best stuff!
Finding Articles
Finding Videos
Finding What Does This Button Do Episodes
Click here for more Articles by Geeks on Tour

That's all for now. We hope you learned something. Your next issue will be next month. Any questions, please visit our forum. If you like this newsletter, please forward it on to your friends! If you received this issue forwarded by a friend you can subscribe to get your own copy delivered to your in box – it's free. You can also visit the archives of past newsletters,
Happy Computing!
The Geeks on Tour website is an online learning library for Travelers who want to learn to use their computers and mobile devices for managing digital photos, making blogs, using maps and other online resources. Anyone can watch our free videos, read articles on our Computer Tips for Travelers Blog, sign up for our free monthly newsletter. A small fee makes you a 'member' and you can then view any of our 450+ video tutorials on these subjects in our Learning LIbrary.
Sincerely,
Geeks on Tour