— Geeks on Tour is member supported. This FREE newsletter is made possible by our paid (Premium) members.  Member benefits include access to over 400 tutorial videos, asking questions on 'Ask the Geeks' form, Show Notes for our weekly show, "What Does This Button Do?" and all our eBooks including Mrs Geek's Guide to Google Photos.
​​​​​​​Join today
Already a member? THANK YOU!
Geeks in January
Nowhere is better than South Florida in January. The photo above is from Morikami Gardens.
​​​​​​​After some restful holidays, we went back to work presenting seminars at Computer Clubs in our area, doing our "What Does This Button Do?" YouTube shows, and working on our website.
By the way, our pictures, Blogs, Web Albums, maps, and videos are all examples of what we teach.  You can learn how to plan, preserve, and share your travels (or your life.)  It makes the experience that much more enjoyable to get creative and share pictures, maps, stories, and movies with friends and family. Check out our Learning Library of Tutorial Videos, just go to 
GeeksOnTour.com
 and click the menu for Tutorials. There are plenty of free videos in addition to our members-only content to whet your appetite for learning.
February-March Calendar
We record them in a live stream, normally on Sundays at 
2pm ET
.
When we're not doing our live show, we'll post an encore episode.​​​​​​​
We're in the RV and on the road all around Florida. We're presenting seminars this week for the Discovery Owners Association.
​​​​​​​Like our 
Facebook Page
 for notifications to see us Live whenever we like.
See our Calendar
Here are some of the topics that have been discussed recently. Anyone can read the forum, only members can ask questions. This is a valuable benefit of membership. Join Today!
Finding Bicycle Trails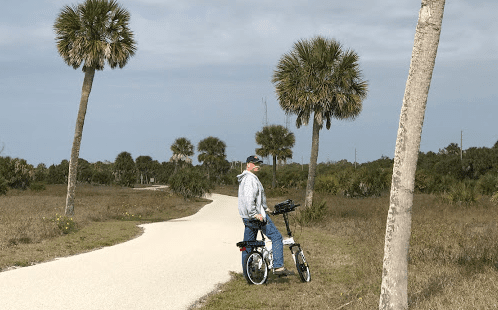 Google Maps is our Go-To app for any question that starts with "Where …" This article tells you how to find out where the bicycle trails are near you.
We found a great place in the Tampa / St. Pete area of Florida
Read the article to find out how to:
Turn on Map View of Bicycle trails
See Street View of the trails.
Read More
Google Photos: Everything you need to know
If you take a lot of photos and wish that they were all together and safe so you never had to worry about them – Google Photos is truly the best option.
I wrote a book about Google Photos. It's titled Mrs. Geek's Guide to Google Photos. The subtitle is "Your lifetime of photos, effortless and free." I keep thinking, if Google Photos is so effortless, why do I need a 100+ page book to teach how to use it?
I've come up with these 14 points as all you really need to know.
Read More
Facebook Groups
So many of us use Facebook all the time. We've just kind of jumped in and started posting and don't understand the structure of the system. We think you'll get more out of it if you do understand a bit. There are 4 distinct parts to Facebook.
​​​​​​​We were guests on the YouTube show of Michael Daniels and The topic was Facebook Basics, and making a Facebook group. If you've ever wondered about making your own group, that's exactly what we did as part of this video.
Read More
GeeksOnTour.com Website Tips
We're updating the website all the time. There are nearly 1,000 articles, 500 videos, and 132 What Does this Button Do Episodes. How do you find what you want? Here are some tips on how to get to the best stuff!
Finding Articles
Finding Videos
Finding What Does This Button Do Episodes
Can't find what you want? ASK the Geeks
Learning Guides
Read More
That's all for now. We hope you learned something. Your next issue will be next month. Any questions, please visit our forum. If you like this newsletter, please forward it on to your friends! If you received this issue forwarded by a friend you can subscribe to get your own copy delivered to your in box – it's free. You can also visit the archives of past newsletters,
Happy Computing!