Monthly Issue #122 November, 2017
GeeksOnTour.com | Newsletter Archives | Become a Member
Geeks on Tour is member supported. This FREE newsletter is made possible by our paid (Premium) members. Member benefits include access to over 400 tutorial videos, 'Ask the Geeks' Forum, Show Notes for our weekly show, "What Does This Button Do?" and all our eBooks including Mrs Geek's Guide to Google Photos.
​​​​​​​Join today
Already a member? THANK YOU!
Members: Click Here for your Premium Content
---
Geeks in October
We packed our little camper and left Fort Lauderdale driving to Heber Springs Arkansas where we were booked to do our seminars for the Workamper Rendezvous. The week went well and they've already asked us to return next year because they got such good feedback about our seminars.
After leaving Arkansas, we headed north. We had extra time before our next gig so made a side-trip to Kansas City to see our musician friends, Victor and Penny play in their hometown. Here's a little movie we put together.
November 1 was our final scheduled seminar for this season. Moline, Illinois and theQuad-Cities Computer Society. We've presented for these folks 5 times before and they always make us feel so welcome. See our October photo album for more pictures, and our October Blog for the rest of the story.
We always continue to learn about technology! And, we share it with you on our weekly class, What Does This Button Do?
By the way, our pictures, Blogs, Web Albums, maps, and videos are all examples of what we teach. You can learn how to plan, preserve, and share your travels (or your life.) It makes the experience that much more enjoyable to get creative and share pictures, maps, stories, and movies with friends and family. Check out our Learning Library of Tutorial Videos, just go to GeeksOnTour.com and click the menu for Tutorial Videos. There are plenty of free videos in addition to our members-only content to whet your appetite for learning.
---
How to leave us a review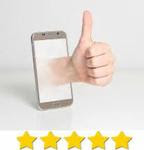 Have you learned something from Geeks on Tour? If so, we'd love to get a review from you. Click on the Facebook or the Google link below. First you'll be asked for a rating by stars – 5 is appreciated! Then, please write some comments. Did you learn from us in person? or from videos on our website? Do you watch our weekly What Does This Button Do show? Do you learn from our newsletters? How has your use of technology improved?
THANKS
Facebook Review click the 5th star, then you can write a review
Google Review scroll down to click on "write a review"
---
November – December Calendar
Every Wednesday "What Does This Button Do?" ​​​​​​​
We record them in a live stream, normally on Sundays at 2pm ET.
When we're not doing our live show, we'll post an encore episode.​​​​​​​
11/1 – Moline, IL November 1st, 2017( Wednesday) – 7:00 PM: "GEEKS ON TOUR" IN PERSON!!
Jim and Chris Guld will return for a final engagement at QCS!
Topic: Traveling the globe with a smart phone and Google photos.
BUTTERWORTH EDUCATION CENTER
11/6-11/10 Chris is at Google in Mountain View, CA. for a Top Contributor's conference. Jim is attending a Roadtrek Rally in Florida.
December – we'll be in Fort Lauderdale, Florida. Home for the holidays! We are available for speaking engagements in the local area. Here's our speaking request form.
Subscribe to our YouTube Channel for notifications of Live Streams from Geeks On Tour! Be sure to click the little bell to confirm delivery of notifications.
​​​​​​​Like our Facebook Page for notifications to see us Live whenever we like.
---
Here are some of the topics that have been discussed recently. Anyone can read the forum, only members can ask questions. This is a valuable benefit of membership. Join Today!
---
Google Voice breaks the shackles of your phone number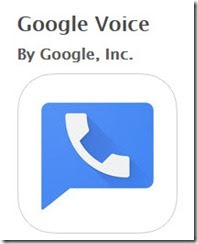 Would you like to:
Have a separate phone number for your business without getting a separate phone?
Have one phone number that rings on multiple phones?
Have a phone number that can spell something meaningful to you?
Receive a written transcript of your voice mails?
Use your computer to make phone calls?
Use your computer to send/receive text messages?
Get a phone number with a different area code from where you bought your phone.
Member Profile: LuVerne Underhill
Members of Geeks on Tour are a diverse group. We love getting to know them a little better. We think you'll like getting to know LuVerne as well.
World traveler by land and by sea, early technology adopter, and life-long-learner, LuVerne Underhill is also a musician, SCUBA diver, and was a speaker of French! Her many interests and talents have led her to living an exciting life.
---
Black and White with Google Photos
I Cheated …
I did not use Black and White film! I didn't set my digital camera to take black and white photos. I didn't even use my phone's capability to take photos in black and white mode. I took color pictures. A few of these, like the lighthouse, are even old color pictures I chose, then I used very simple editing tools to create the B&W images.
---
Google Maps finds your next rest stop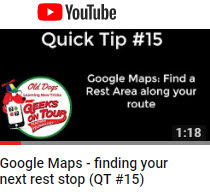 There are lots of apps that can tell you where the rest stops are, but they don't know where you're going. It can be a pain to check the rest stop app, then go back and check your GPS, then go back to the rest stop app, etc. Since Google Maps, on my iPhone, is doing my navigating, it knows the route I'm going to follow. I can ask Google Maps to search for Rest Areas along that route …
---
GeeksOnTour.com Website Tips
We're updating the website all the time. There are nearly 1,000 articles, 500 videos, and 125 What Does this Button Do Episodes. How do you find what you want? Here are some tips on how to get to the best stuff!
Finding Articles
Finding Videos
Finding What Does This Button Do Episodes
Quick Tip Videos
Click here for more Articles by Geeks on Tour

That's all for now. We hope you learned something. Your next issue will be next month. Any questions, please visit our forum. If you like this newsletter, please forward it on to your friends! If you received this issue forwarded by a friend you can subscribe to get your own copy delivered to your in box – it's free. You can also visit the archives of past newsletters,
Happy Computing!
The Geeks on Tour website is an online learning library for Travelers who want to learn to use their computers and mobile devices for managing digital photos, making blogs, using maps and other online resources. Anyone can watch our free videos, read articles on our Computer Tips for Travelers Blog, sign up for our free monthly newsletter. A small fee makes you a 'member' and you can then view any of our 450+ video tutorials on these subjects in our Learning LIbrary.
Sincerely,
Geeks on Tour