Monthly Issue #119 September, 2017
GeeksOnTour.com | Newsletter Archives | Become a Member
— Geeks on Tour is member supported. This FREE newsletter is made possible by our paid (Premium) members. Member benefits include access to over 400 tutorial videos, 'Ask the Geeks' Forum, Show Notes for our weekly show, "What Does This Button Do?" and all our eBooks including the new Google Photos book.
​​​​​​​Join today
Already a member, THANK YOU! Click on the Member Login menu to find all the premium content.
Geeks in August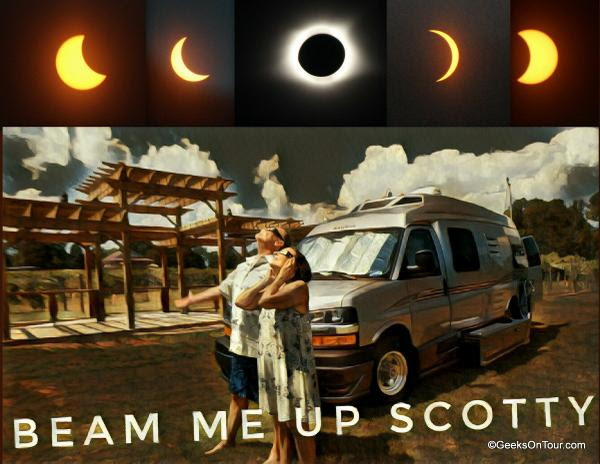 In August we were on the road. See our August Photo album. First an RV rally in Syracuse, NY. Then a visit with friends on the New Jersey shore. And, finally, a stay at a winery in South Carolina in order to view the total solar eclipse. It was perfect. The stars came out. The clouds stayed clear. The corona was wispy strands of silk. The diamond ring blazed brightly coming out the other side. And, yes, I cried. I think Jim did too.
After the eclipse, we came home to Fort Lauderdale, Florida. As I write this we are preparing to evacuate from the path of Hurricane Irma. .. this might be a short newsletter! We will post updates on our Website on where we are. Check out webcams to watch the hurricane from a distance – the only way.
We always continue to learn about technology! And, we share it with you on our live weekly class, What Does This Button Do?
By the way, our pictures, Blogs, Web Albums, maps, and videos are all examples of what we teach. You can learn how to plan, preserve, and share your travels (or your life.) It makes the experience that much more enjoyable to get creative and share pictures, maps, stories, and movies with friends and family. Check out our Learning Library of Tutorial Videos, just go to GeeksOnTour.com and click the menu for Tutorial Videos. There are plenty of free videos in addition to our members-only content to whet your appetite for learning.
Want more frequent tips from Geeks on Tour? Visit our Facebook page and be sure to "Like" us so you'll see more from us.
---
September – October Calendar​​​​

Every Wednesday "What Does This Button Do?" ​​​​​​​
We record them in a live stream on Sunday at 2pm ET.
When we're not doing our live show, we'll post an encore episode.
9/25 -9/30 Carriage Travel Club Rally in New Orleans, LA
Four seminars and smartphone help desk
10/16-10/20 Workamper Rendezvous in Heber Springs, AR
Two seminars and smartphone help desk.
Subscribe to our YouTube Channel for notifications of Live Streams from Geeks On Tour! Be sure to click the little bell to confirm delivery of notifications.
​​​​​​​Like our Facebook Page for notifications to see us Live whenever we like.
Here are some of the topics that have been discussed recently. Anyone can read the forum, only members can ask questions. This is a valuable benefit of membership. Join Today!
---
The eclipse is a work of art, with a little help from an app!
We took a lot of photos at the total solar eclipse. It was a dramatic sight. Then we had lots of fun editing the resulting pictures, making collages and using this special app to turn the photos into a work of art!
---
What's the difference between a blog and a website?
We love the Blogging platform from Google called Blogger.com. We've been keeping our personal travel blog on it since 2003. This is what we teach at RV rallies in the seminar, "Every RVer needs a blog." And, it is the subject of one of our more popular tutorial video series. We taught it again just this month in Episode 123 of What Does This Button Do.
Whenever we teach this class, one of the first questions is always "What is the difference between a blog and a website?"
Well … a Blog IS a website. It's on the web, and it's a site. It has text, images, videos, etc. It's just a special kind of website,
---
Save a photo from Google Photos to your phone
I have a beautiful photo of a waterfall in Pennsylvania. It's in my Google Photos library. I took it with my Canon camera. How can I use it as the wallpaper for my iPhone (or Android) phone, when wallpaper photos need to be on your device's camera roll?
---
GeeksOnTour.com Website Tips
We're updating the website all the time. There are nearly 1,000 articles, 500 videos, and 120 What Does this Button Do Episodes. How do you find what you want? Here are some tips on how to get to the best stuff!
Finding Articles
Finding Videos
Finding What Does This Button Do Episodes
Surprise Me!
Click here for more Articles by Geeks on Tour

That's all for now. We hope you learned something. Your next issue will be next month. Any questions, please visit our forum. If you like this newsletter, please forward it on to your friends! If you received this issue forwarded by a friend you can subscribe to get your own copy delivered to your in box – it's free. You can also visit the archives of past newsletters,
Happy Computing!
The Geeks on Tour website is an online learning library for Travelers who want to learn to use their computers and mobile devices for managing digital photos, making blogs, using maps and other online resources. Anyone can watch our free videos, read articles on our Computer Tips for Travelers Blog, sign up for our free monthly newsletter. A small fee makes you a 'member' and you can then view any of our 450+ video tutorials on these subjects in our Learning LIbrary.
Sincerely,
Geeks on Tour