Trouble reading this email? View online: Link to all newsletters online
Monthly Issue #118 August, 2017
GeeksOnTour.com | Newsletter Archives | Become a Member
— Geeks on Tour is member supported. This FREE newsletter is made possible by our paid (Premium) members.  Member benefits include access to over 400 tutorial videos, 'Ask the Geeks' Forum, Show Notes for our weekly show, "What Does This Button Do?" and all our eBooks including the new Google Photos book.
​​​​​​​Join today
Already a member, THANK YOU! Click on the Member Login menu to find all the premium content.
---
Geeks in July
In July we were back on the road and teaching our seminars at the FMCA rally in Indianapolis. We're traveling in our new little Roadtrek camper van and we're loving it. There are so many places we can go and stay that weren't feasible with the big rig, it makes us very excited. Yes, it's a lot smaller than we were used to, but it has everything in it and we are figuring it out. The photo above is from a winery in Ontario, Canada. We knew of this overnight parking spot because of our membership in HarvestHosts.com.
We also continue to learn about technology! And, we share it with you on our live weekly class, What Does This Button Do? We did 2 live shows from the front seats of our camper van!
By the way, our pictures, Blogs, Web Albums, maps, and videos are all examples of what we teach.  You can learn how to plan, preserve, and share your travels (or your life.)  It makes the experience that much more enjoyable to get creative and share pictures, maps, stories, and movies with friends and family. Check out our Learning Library of Tutorial Videos, just go to GeeksOnTour.com and click the menu for Tutorial Videos. There are plenty of free videos in addition to our members-only content to whet your appetite for learning.
Want more frequent tips from Geeks on Tour? Visit our Facebook page and be sure to "Like" us so you'll see more from us.
---
July-August Calendar
​Every Wednesday "What Does This Button Do?" ​​​​​​​
Even when we're not doing our live show, we post an encore episode every week.
8/3 – 8/6 FMCA Northeast Area Rally
In Syracuse, NY
We'll be presenting 5 topics and providing smartphone help-desk services.
9/25 -9/30 Carriage Travel Club Rally in New Orleans, LA
Several seminars and smartphone help desk
Subscribe to our YouTube Channel for notifications of Live Streams from Geeks On Tour! Be sure to click the little bell to confirm delivery of notifications.
​​​​​​​Like our Facebook Page for notifications to see us Live whenever we like.
---
Are you an RVer?
The RV Safety and Education Foundation will hold its annual educational conference Oct. 1–5 in Elizabethtown, Kentucky. The event provides a positive networking opportunity for both new and veteran RVers with industry experts in classroom, roundtable and individual settings. Endorsed by RVtravel.com. Learn more or watch a two-minute video about the event.
---
Here are some of the topics that have been discussed recently. Anyone can read the forum, only members can ask questions. This is a valuable benefit of membership. Join Today!
---
Data Roaming in Canada
We just spend a week in Canada, traveling from Detroit thru Toronto and Kingston, then back across the border to Syracuse New York. We're here in Syracuse for the FMCA NE Area Rally. While in Canada, we were able to get enough Internet access with our mobile devices (on TMobile and Project Fi) to do our normal email, uploading photos, Facebook and blog posts, but we didn't have enough to do do our weekly webcast of What Does This Button Do.
---
Google Maps, Want-to-Go, Boondockers Welcome
Where to go?  What to do?  Where to stay? Those are the questions we ask ourselves in between rallies. We arrange our RV travel according to the rallies where we need to be to teach our seminars. Sometimes we have 2 days between rallies, sometimes we have 2 months. They're always in the same quadrant of the country because we refuse to book rallies that make us drive back and forth across the country.
---
Your Travel Map with RVillage
If you're a traveler, you probably love maps. I love to have maps of where I've been and we teach how to make these maps using Google My Maps. But, if you are an RVer, and you use RVillage.com, it's a lot easier. RVillage automatically creates a map of everywhere you check in. Here are the Geeks on Tour maps from RVillage for the last 4 years. Notice the date selection boxes at the top left of each map.
---
Find the Perfect Viewing Spot for the Total Solar Eclipse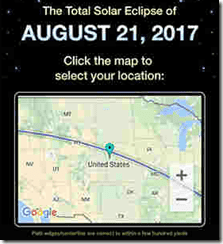 Those of us who travel by RV have the enviable opportunity to be in the perfect spot for the historic total solar eclipse that crosses the United States onAugust 21, 2017. But how do you find that perfect spot? With an app on your smartphone of course!
---
Google Photos Quick Tip: Vignette to Frame your Photos
What's a vignette, you ask? It's where you just darken the outside edge of a picture so that it stands out. It's a very soft frame. Here is a recent flower photo I took:
---
GeeksOnTour.com Website Tips
We're updating the website all the time. There are nearly 1,000 articles, 500 videos, and 116 What Does this Button Do Episodes. How do you find what you want? Here are some tips on how to get to the best stuff!
Finding Articles
Finding Videos
Finding What Does This Button Do Episodes
Surprise Me!
Click here for more Articles by Geeks on Tour

That's all for now. We hope you learned something. Your next issue will be next month. Any questions, please visit our forum. If you like this newsletter, please forward it on to your friends! If you received this issue forwarded by a friend you can subscribe to get your own copy delivered to your in box – it's free. You can also visit the archives of past newsletters,
Happy Computing!
The Geeks on Tour website is an online learning library for Travelers who want to learn to use their computers and mobile devices for managing digital photos, making blogs, using maps and other online resources. Anyone can watch our free videos, read articles on our Computer Tips for Travelers Blog, sign up for our free monthly newsletter. A small fee makes you a 'member' and you can then view any of our 450+ video tutorials on these subjects in our Learning LIbrary.
Sincerely,
Geeks on Tour