Monthly Issue #113 April, 2017
GeeksOnTour.com | Newsletter Archives | Become a Member
— Geeks on Tour is member supported. This FREE newsletter is made possible by our paid (Premium) members. Member benefits include access to over 400 tutorial videos, 'Ask the Geeks' Forum, and Show Notes for our weekly show, "What Does This Button Do?"
​​​​​​​Join today
Already a member, THANK YOU! Here's recent premium content:
Videos: Apple vs Google Photos, Android Gallery vs Google Photos, Crop photos to fit wide screen, Taking Panorama photos Android, Taking Panorama photos iPhone, How to Save a Photo from a Text message, How not to Lose your Photos when you get a new Phone!
Show Notes: Add Photos to My Maps, Smartphone Photography Essentials
---
Geeks in March
March was a work month! We were working In Arizona. With two major rallies (FMCA and Escapade), 3 local computer clubs, and one week at an RV resort, we did a lot of teaching!
5 different venues
8 different topics (Smartphones, Google Photos, Google Maps, Google Blogger, Smartphone photography, Technology for Travelers, Technology to Tell Your Stories, Android Tips/Tricks)
24 Class Sessions
3,000 attendees
More photos of our month are on our March Photo Album. Check out our latest news in our personal blog post:
We posted 1 new episodes of our "What Does This Button Do?" and 3 Encore episodes
By the way, our pictures, Blogs, Web Albums, maps, and videos are all examples of what we teach. You can learn how to plan, preserve, and share your travels (or your life.) It makes the experience that much more enjoyable to get creative and share pictures, maps, stories, and movies with friends and family. Check out our Learning Library of Tutorial Videos, just go to GeeksOnTour.com and click the menu for Tutorial Videos. There are plenty of free videos in addition to our members only content to whet your appetite for learning.
Want more frequent tips from Geeks on Tour? Visit our Facebook page and be sure to "Like" us so you'll see more from us.
---
April-May Calendar
​​​​​​​​​​​​We're in Arizona now heading to California before heading east. RV Rallies and a Computer Club are on the calendar.
---
'Ask the Geeks' Q&A Forum
Here are some of the topics that have been discussed recently. Anyone can read the forum, only members can ask questions. This is a valuable benefit of membership!
---
So Many Weather Apps! Pick One and Learn.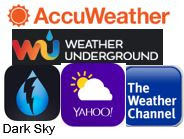 I think having too many choices is bad. The best app (or software, or phone, or …) is the one you know how to use, and use it well. Just pick one! Then use it. Explore the settings, explore the menus, experiment, read the Help screens.
For example, I picked The Weather Channel as my app. It works the same on my iPhone as it does on my Android devices. When I first open it, I've learned to just scroll down (swipe up on the screen) until I see what I want – Radar screen, for example. When I keep scrolling down, just below Radar & Maps is an option for Road Conditions. I tap on that and get a map, then I tapped on the Layers button image and see all sorts of choices.
---
Viewing your Blogger Blog on a Phone
It's great that Blogger automatically adjusts the layout of your blog to fit the small screen, but what if you need to see the content of that sidebar?
This article explains what is happening and how to override the default view.
---
Member Spotlight: Sue Hepler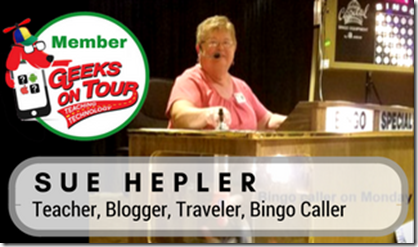 Ask any of the thousands of seasonal guests and residents at Palm Creek Golf and RV Resort in Casa Grande, AZ, who Sue Hepler is and they would know her well from the beautiful blog Palm Creek Update, that she writes detailing daily life and activities at the resort. She created and has maintained that blog for over 10 years.
---
Did you miss any of our Google Photos articles this month?
Deleting Bunches of Photos with Google Photos
Have you ever mistakenly taken lots of pictures of the inside of your pocket? or your thumb over the lens of your phone? Using Google Photos on your smartphone, it's easy to select them all and delete.
It's so Easy to Send Photos using Google Photos
All you need is a person's email and it's a couple of clicks. This article explains.
---
GeeksOnTour.com Website Tips
We're updating the website all the time. There are nearly 1,000 articles, 450 videos, and 110 What Does this Button Do Episodes. How do you find what you want? Here are some tips on how to get to the best stuff!
Finding Articles
Finding Videos
Finding What Does This Button Do Episodes
Surprise Me!
Click here for more Articles by Geeks on Tour