Monthly Issue #111 February, 2017
GeeksOnTour.com | Newsletter Archives | Become a Member ​​​​​​​
— Geeks on Tour is member supported. This FREE newsletter is made possible by our paid (Premium) members.  Member benefits include access to over 400 tutorial videos, 'Ask the Geeks' Forum, and Show Notes for our weekly show, "What Does This Button Do?"
​​​​​​​Join today
If you are already a member, THANK YOU!
---
#109 What Does This Button Do: Apple vs Android with Mike Wendland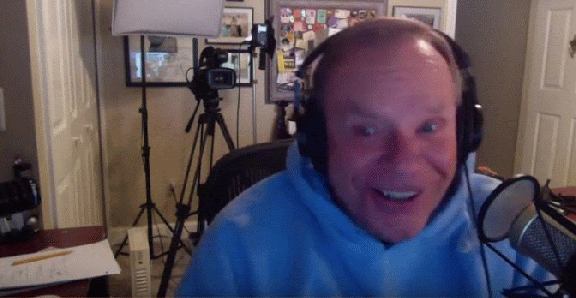 Apple vs Android, which is Better?
Mike Wendland is our guest for this week's show. Mike is a veteran journalist whose video "PC Mike" reports have been distributed weekly to all 215 NBC-TV stations since 1994, making him one of the most experienced tech reporters in the country. He has owned just about every Apple device ever made. You're going to be surprised by what he has to say on our topic today!​​​​​​​
---
Geeks in January
The month of January was all spent in Florida and it was delightful. We bounced between Orlando, Fort Lauderdale, and Arcadia. Teaching lots of Google Photos as well as general Smartphone knowledge. Jim got a chance to go scuba diving several days with his long-time dive buddy who was visiting from New Jersey. See Jim's underwater video of one of the dives. More photos of our month are on our January Photo Album. The stories to go along with this are on our January Blog.
We posted our "What Does This Button Do?" online class everyWednesday in December. We recorded a brand new episode everySunday, 105, 106, 107, and 108. See the complete archives atGeeksOnTour.com/weeklyshow
By the way, our pictures, Blogs, Web Albums, maps, and videos are all examples of what we teach.  You can learn how to plan, preserve, and share your travels (or your life.)  It makes the experience that much more enjoyable to get creative and share pictures, maps, stories, and movies with friends and family. Check out our Learning Library of Tutorial Videos, just go to GeeksOnTour.com and click the menu for Tutorial Videos. There are plenty of free videos in addition to our members only content to whet your appetite for learning.
Want more frequent tips from Geeks on Tour? Visit our Facebook page and be sure to "Like" us so you'll see more from us.
---
February-March Calendar​​​​​​​​​​​​
We're in Florida until mid-February, then we'll be heading west for several RV rallies in Arizona, and some clubs in California.
Posted every Wednesday "What Does This Button Do?" ​​​​​​​
Geek Week at Riverside RV Resort in Arcadia 1/31-2/3

1/31: What Does This Button Do?
2/1: Smartphone Photography Workshop for iPhone
2/2: Smartphone Photography Workshop for Android

2/9 7:30pm: Platina Computer Club, Boynton Beach, Fl, Google Photos seminar
3/1 SCGrand Computers Club  Google Photos in Phoenix, AZ
3/7 – 3/10 FMCA Rally in Chandler, AZ
3/11 – 3/15 Geek Week in Palm Creek, Casa Grande, AZ
Sat: Smartphones, Sun: Blogger, Tue: Android, Wed: Photos
3/13 Leisure World Computer Club in Mesa, AZ
3/16 – 3/21 Escapees Escapade in Tucson, AZ
April will find us in Yuma, AZ, Laguna Woods, CA, and Sevierville, TN.
---
'Ask the Geeks' Q&A Forum
Here are some of the topics that have been discussed recently. Anyone can read the forum, only members can ask questions. This is a valuable benefit of membership!
---
Member Benefit: 7 eBooks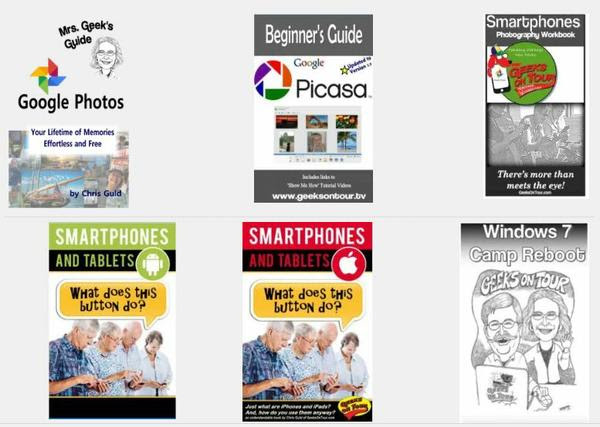 If you are a Premium member of Geeks on Tour, you have access to 7 eBooks on Google Photos, Picasa, Smartphone Photography, Android devices, iOS devices, Windows 7, and Windows 8. Just click on the Member Login menu and you'll see a link to the eBook page.
Not a member? Join Today!
If you're just interested in the Google Photos book, even non-members can download a free chapter here.
---
Member Spotlight: Bill Osborne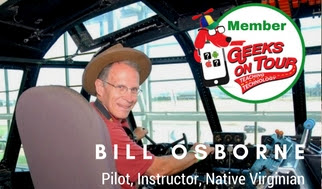 Bill Osborne wants to learn everything! Pictures, Blogs, Smartphones, Cloud computing, Videos, YouTube, Drones, GPS, Facebook, maps … I guess that's what happens when you retire from being a pilot, an army finance instructor, a mortician, a real estate salesman, an entrepreneur, a flight instructor and an optician! You GO Bill!
---
Lesson Plans for your Computer Club
Lately we've had a lot of requests from Computer Clubs and Senior Centers to use our Geeks on Tour materials – videos, show notes, articles, handouts – for learning during their meetings.
YES, YES, YES!
For years we've encouraged computer clubs to use our videos during their club meetings and classes. That way, the club leader doesn't have to do the work of developing a formal presentation, just show our videos and then elaborate on the topic and facilitate Q&A. The members get to know Geeks on Tour, where they can continue to learn whenever they want.
---
How to Capture a Frame of an iPhone Live Photo
Mary has a question:
"Sometimes when I take a photograph with my iPhone 7, the snapshot moves briefly when I view it. Why?
Sometimes this exceedingly brief "video" has an image I would like to save and print at the beginning and not at the end of the movement. Specifically dolphins leaping from the water. Is there anyway I can stop the motion where I need to?"
The snapshot that moves is called a Live Photo and it has been a feature of iPhones since the 6s. Turning on the Live option in the camera will take 3 seconds of video along with the still shot. You know if your Live option is turned on if the bullseye at the top center of the camera is gold. If it's white then Live is OFF. Just tap it and you will briefly see the words LIVE or LIVE OFF.
---
Google's Blogger is Alive and Well
I've been using Google's Blogger.com to create and maintain my personal blog since April of 2003. This past year I started 2 new blogs/websites: LearnGooglePhotos.com, and TheButtonShow.com. I used Blogger.com for both of them as well.
Am I Crazy?
Blogger.com is a free service from Google, aren't I afraid that it will disappear someday? While it is possible that Google will discontinue Blogger someday, I'm really not worried for several reasons.
---
GeeksOnTour.com Website Tips
We're updating the website all the time. There are nearly 1,000 articles, 450 videos, and 110 What Does this Button Do Episodes. How do you find what you want? Here are some tips on how to get to the best stuff!
Finding Articles
Finding Videos
Finding What Does This Button Do Episodes
Surprise Me!
Click here for more Articles by Geeks on Tour

That's all for now. We hope you learned something. Your next issue will be next month. Any questions, please visit our forum. If you like this newsletter, please forward it on to your friends! If you received this issue forwarded by a friend you can subscribe to get your own copy delivered to your in box – it's free. You can also visit the archives of past newsletters,
Happy Computing!
The Geeks on Tour websites are an online learning library resource for anyone who wants to learn to use their smartphones, tablets, and computers for managing digital photos, making blogs, using maps and other online resources. View selected free videos in our extensive Video Learning Library, read articles on our Computer Tips for Travelers Blog, and sign up for our free monthly newsletter, A small fee makes you a Premium Member and you can take full advantage of Geeks On Tour benefits.
Sincerely,
Geeks on Tour