Monthly Issue #110 January, 2017
GeeksOnTour.com | Newsletter Archives | Become a Member
— Geeks on Tour is member supported. This FREE newsletter is made possible by our paid (Premium) members. Member benefits include access to over 400 tutorial videos, 'Ask the Geeks' Forum, and Show Notes for our weekly show, "What Does This Button Do?"
​​​​​​​Join today
If you are already a member, THANK YOU
---
Geeks in December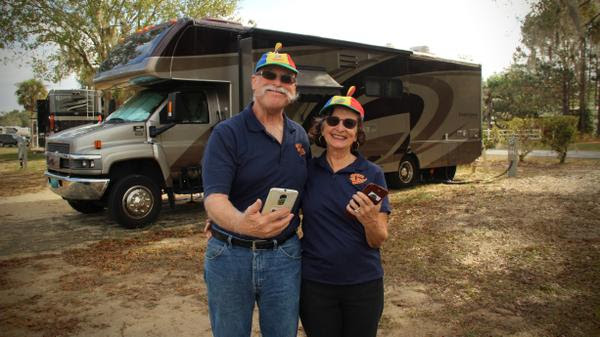 The month of December began with a week at our home RV park of Thousand Trails, Orlando. We taught a seminar on Google Photos at theCentral Florida Computer Society in the Orlando area. See our December Photo Album for more pictures.
The rest of the month was spend at home in Fort Lauderdale publishing and selling our new "Mrs. Geek's Guide to Google Photos." A big Thank You to over 200 of you who bought our book launch special. If you want to buy the book now, the best option is Amazon books.
We posted our "What Does This Button Do?" online class everyWednesday in December. Even if we don't have a live show, we post an encore episode, so you can count on a weekly class.
By the way, our pictures, Blogs, Web Albums, maps, and videos are all examples of what we teach. You can learn how to plan, preserve, and share your travels (or your life.) It makes the experience that much more enjoyable to get creative and share pictures, maps, stories, and movies with friends and family. Check out our Learning Library of Tutorial Videos, just go to GeeksOnTour.com and click the menu for Tutorial Videos. There are plenty of free videos in addition to our members only content to whet your appetite for learning.
Want more frequent tips from Geeks on Tour? Visit our Facebook page and be sure to "Like" us so you'll see more from us.
---
January-February Calendar ​​​​​​​​​​
We're in Florida until February, then we'll be heading west for several RV rallies in Arizona, and some clubs in California.
Posted every Wednesday "What Does This Button Do?" ​​​​​​​
Geek Week at Thousand Trails Orlando:
1/10: Technology for Travelers 10am
1/11: Smartphones and Tablets 10am
1/12: Smartphone Photography Workshop 1-4pm $
1/13: Make a Blog with Blogger 10am
1/16 – 19 Roadtrek International Rally – Orlando
1/30 – 2/3: Geek Week at Riverside RV in Arcadia, FL
2/1 7pm: Sarasota Computer User Group, Google Photos seminar
Mark your calendars for March in Arizona. Geeks on Tour will be at the FMCA Rally in Chandler, and the Escapees Escapade in Tucson
---
'Ask the Geeks' Q&A Forum
Here are some of the topics that have been discussed recently. Anyone can read the forum, only members can ask questions. This is a valuable benefit of membership!
---
Google Photos Book Launch Success
Thank you so much to everyone who bought our Book Launch special last month! Also to those of you who purchased on Amazon Create Space or Kindle, and especially those who left the wonderful reviews on Amazon. We sold nearly 300 books in the first month and we consider that a wild success!
The December special, which included our Learning Library on USB drive, is over but you can still purchase the book several different ways. We've set up a special page just for the book.
On the Google Photos Book page you can:
Read about the book and watch the Launch Video
Sign up for the FREE Chapter 1 download,
There is a link where Geeks on Tour members can get the entire book in .pdf format
Buy the printed book from Amazon CreateSpace
Buy the Kindle edition of the book
Buy the .pdf eBook
---
Member Spotlight
What better place to start our series of member spotlights but with our very first member!
Dr. Gail West, now a retired professor of education, was the first one to sign up as a Geeks on Tour member in July of 2008. But her association started even before Chris and Jim Guld were known as the Geeks on Tour.
---
Mrs. Geek's Year End Photo Tasks
I count on Google Photos to keep ALL my photos together, in one place with no effort on my part. But, at the end of the year, I want to know that I have an album for each month with all the most important pictures.
I want those albums to be available to me online and off, and I want an easy way to display my year in review.
This article details what I do.
---
A USB Drive with an iPad?
Recently a lot of people bought our Geeks on Tour Learning Library on USB. This is a thumb drive that holds all the content from our website. There are hundreds of tutorial videos on it, and some people want to play those videos on their iPad or other tablet. Well – tablets do not have regular USB ports, so this is not possible. Or is it? Actually there are a few ways, but this little device has got to be about the easiest:
---
Android, or Apple iOS, the Best Smartphone?
We use them all! And we have an opinion.
I could not give up my iPhone now, if only because of the camera's "Portrait" feature. Using the dual lenses with the portrait mode in the iPhone 7 Plus results in photos I thought were only possible with my Canon DSLR camera! The phone is also incredibly FAST. It unlocks instantly …