Monthly Issue #107 October, 2016
GeeksOnTour.com | Newsletter Archives | Become a Member
— Geeks on Tour is member supported. This FREE newsletter is made possible by our paid (Premium) members.  Member benefits include access to over 400 tutorial videos, 'Ask the Geeks' Forum, and Show Notes for our weekly show, "What Does This Button Do?"
Join today
If you are already a member, THANK YOU
---
Geeks in September
September was a whirlwind! It started in LBI, New Jersey, parked in a friend's driveway. We stayed there for a few weeks so we could drive up to New York City for another day at Senior Planet. We left New Jersey and drove back home to Fort Lauderdale, Florida. Even though we only had about a week at home, we took advantage of some beautiful weather to do our favorite thing – kayak diving. Then, at the end of the month, we flew to San Francisco because Google invited Chris to a conference for Top Contributors. It was only 2 days, but we made a week out of it to do some sightseeing and some teaching at the Golden Gate Computer Society. See lots more photos on our September Photo Album.
We also presented our "What Does This Button Do?" online class twice in September, once for Voice Dictation, and once more for Anti-Virus apps.
October:  Since we're posting this late, we have already done an RV rally in Bradenton, Florida – Living the RV Dream. Check out episode 97 of our weekly show where we interviewed John and Kathy Huggins of Living the RV Dream who organized the rally, and Eric and Tami Johnson of TechnoRV who were fellow seminar presenters.
By the way, our pictures, Blogs, Web Albums, maps, and videos are all examples of what we teach.  You can learn how to plan, preserve, and share your travels (or your life.)  It makes the experience that much more enjoyable to get creative and share pictures, maps, stories, and movies with friends and family. Check out our Learning Library of Tutorial Videos, just go toGeeksOnTour.com and click the menu for Tutorial Videos. There are plenty of free videos in addition to our members only content to whet your appetite for learning.
---
Want more frequent tips from Geeks on Tour? Visit our Facebook pageand be sure to "Like" us so you'll see more from us.
---
October – November Calendar
We're in Florida until February working on the website and The Button Show.
---
Test Your Smartphone Smarts #10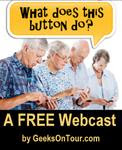 Each week on our What Does This Button Do show, we cover a Beginner's Lesson on a particular topic.
At the end of the show we ask and answer Review Questions. This article has sample questions on:
Mobile Device Choices
Google Hangouts
Sharing Pictures with Facebook
Getting Started with Google Photos
---
Read the Questions and Get links to the answers
---
'Ask the Geeks' Q&A Forum
Here are some of the topics that have been discussed recently. Anyone can read the forum, only members can ask questions. This is a valuable benefit of membership!
---
Google Photos Book: Members Only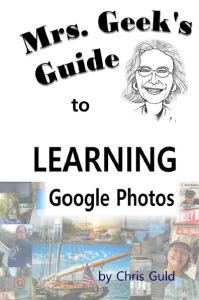 There's still some editing and formatting to be done before putting it on Amazon, but if you're a member of Geeks on Tour, you can read it on our website now, or download the .pdf.
Here's the current Table of Contents:
Chapter 1: Quick Start
Chapter 2: Gather Pictures from Old Prints and Slides
Chapter 3: Uploading Pictures from Computer Manually
Chapter 4: Selecting Pictures
Chapter 5: Explore your Photo Library!
Chapter 6: Albums
Chapter 7: Deleting Pictures and Synchronizing
Chapter 8: Editing Photos
Chapter 9: Sharing Photos
Chapter 10: Creations
Chapter 11: Photo Workflow
Chapter 12: Google Photos and Picasa
Chapter 13: Google Photos and Google Drive
Chapter 14: Using Google Photos Pictures Elsewhere
Chapter 15: Questions and Answers
---
Geeks go to Google … again!
We often refer to ourselves as Google Evangelists. We enjoy so many of their products, but it is the photo-related products where we do a deep dive. In 2009, we specialized in teaching Picasa and Google invited us to a conference to speak about what users need in the way of support. Now that Picasa is retired and Google's new photo product is Google Photos, Chris has done what it takes to get noticed again and Google calls her a product expert and Top Contributor in the Google Photos forum.
At the end of September, we flew out to San Francisco and made a week out of the 2 day Top Contributors conference. Read the article if you'd like to know more about the conference, and maybe how you too can become a Top Contributor!
---
Embedding Slideshows in Websites
It's not so easy any more, but it can be done! Using either Google Slides, or PowerPoint and OneDrive, you can create a custom slideshow for your photos and anything else you want to show.
This article explains, and shows an example from both.
---
Technology for Travelers: Geeks teach at an RV Rally
We just spent last week at an RV rally called "Living the RV Dream Gathering." People from all over the country who travel by RV gathered here to learn, make friends, and have fun. We presented 4 seminars and one day-long smartphone photography workshop. For RVers, we almost always start with the seminar we call "Technology for Travelers."
Our definition of Technology for Travelers is using smartphones and computers to plan, preserve and share your travels. We use all free Google products for our pictures, maps and blogs.
---
What Does This Button Do?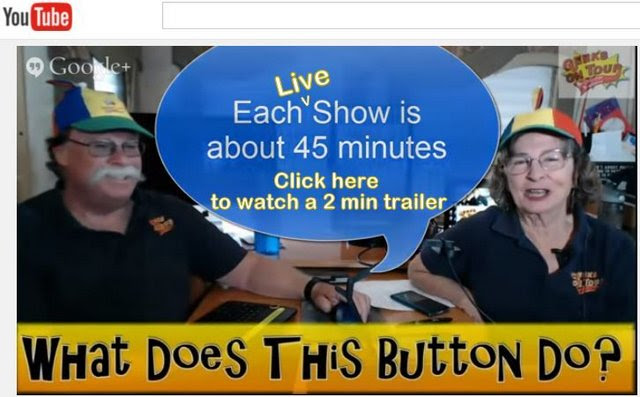 Almost every Sunday, we teach a Free Web Class on a topic related to smartphones and tablets. You are invited to join us live, or you can watch the recorded show on Youtube at any time afterwards.
Links to the Latest Shows with Notes and Links
#93 How to use Voice Dictation
#94 Does your Mobile Device need Anti-Virus?
#95 How to get Help on Google Products
#96 How Do I Keep My Battery Charged?
There are show notes which document what was covered in each show and include timeline links, so you can watch just the part of the video that you want. If you are not a Geeks on Tour member, you can watch the episodes for free on Youtube.
---
GeeksOnTour.com Website Tips
We're updating the website all the time. There are nearly 1,000 articles, 450 videos, and 93 What Does this Button Do Episodes. How do you find what you want? Here are some tips on how to get to the best stuff!
Finding Articles
Finding Videos
Finding What Does This Button Do Episodes
Surprise Me!
Click here for more Articles by Geeks on Tour

That's all for now. We hope you learned something. Your next issue will be next month. Any questions, please visit our forum. If you like this newsletter, please forward it on to your friends! If you received this issue forwarded by a friend you can subscribe to get your own copy delivered to your in box – it's free. You can also visit the archives of past newsletters,
Happy Computing!
The Geeks on Tour website is an online learning library for Travelers who want to learn to use their computers and mobile devices for managing digital photos, making blogs, using maps and other online resources. Anyone can watch our free videos, read articles on our Computer Tips for Travelers Blog, sign up for our free monthly newsletter, or Picasa weekly tips. A small fee makes you a 'member' and you can then view any of our 300+ video tutorials on these subjects in our Learning LIbrary.
Sincerely,
Geeks on Tour