Monthly Issue #104 July, 2016
GeeksOnTour.com | Newsletter Archives | Become a Member
— Geeks on Tour is member supported. This FREE newsletter is made possible by our paid (Premium) members. Member benefits include access to over 400 tutorial videos, 'Ask the Geeks' Forum, and Show Notes for our weekly show, "What Does This Button Do?"
​​​​​​​Join today
If you are already a member, THANK YOU
Geeks in June
​For the month of June, we stayed at home in Fort Lauderdale, Florida, We also presented our "What Does This Button Do?" online class most every week. See more pictures in our June album, and stories on our blog.
Where we're going: For July we start our summer tour, heading to the Escapade RV rally in Vermont, then FMCA convention in Massachusetts. See more details in the calendar listings below.
By the way, our pictures, Blogs, Web Albums, maps, and videos are all examples of what we teach. You can learn how to plan, preserve, and share your travels (or your life.) It makes the experience that much more enjoyable to get creative and share pictures, maps, stories, and movies with friends and family. Check out our Learning Library of Tutorial Videos, just go to GeeksOnTour.com and click the menu for Tutorial Videos. There are plenty of free videos in addition to our members only content to whet your appetite for learning.
Want more frequent tips from Geeks on Tour? Visit our Facebook page and be sure to "Like" us so you'll see more from us.
---
Coming up in July and August
​​​​​​​​​​​​​​
We're on our Summer Tour!
July 18 FullTimers rally Elizaville, NY
July 22-29 The Escapade in Vermont
Every Sunday 2pm ET "What Does This Button Do?"
Aug 3-6 FMCA Convention, Springfield, MA
Aug 16 & 18: Senior Planet, New York City
Monday, July 18 4pm Eastern time. For Members Only: Are you wondering how to get the most out of your membership? Would you like to learn how to navigate the website, ask questions in the forum, and use the Class Notes? We will be scheduling monthly Member RoundTables – online meetings for members only. Get all your questions answered by attending online. Watch for your invitation later.
---
Test Your Smartphone Smarts #7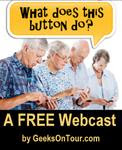 ​​​​​​​Each week on our What Does This Button Do show, we cover a Beginner's Lesson on a particular topic.
At the end of the show we ask and answer Review Questions. This article has sample questions on:
Photo Organization
Data Usage
Web Browsing
​​​​​​​Google Maps
Read the Questions and Get links to the answers
---
'Ask the Geeks' Q&A Forum
Here are some of the topics that have been discussed this month. Anyone can read the forum, only members can ask questions. This is a valuable benefit of membership!
---
Geeks in New York City!
Thanks to our friend, Abby Stokes, we are booked to speak at Senior Planet Exploration Center in New York City. We're really looking forward to it!
August 16, 3:30-4:45 What Does This Button Do?
August 18, 3:30-4:45 Smartphone Photos SOS
September 6, 3:30-4:45 What Does This Button Do?
September 8, 3:30-4:45 Smartphone Photos SOS
---
Save your Blog! Get a Printable Copy
Anything on the Internet is ethereal. It could disappear tomorrow. If your blog is important to you, like mine is to me, I urge you to make a printable copy. I like the hardbound books, but they can be expensive. A simple .pdf file of all the text and pictures takes just a few clicks and costs just $8.95.
Do it now OK?
This article will explain and tell you exactly how to do it.
---
Plan your Road Trip with Furkot
We've used a lot of GPS and Trip Planning software. Nothing is perfect, but our latest discovery, Furkot.com, shows a lot of potential. It gives us all the details of each segment of the trip, including start time, end time, date of arrival and even campground reservations thru ReserveAmerica.com.
It's not designed specifically for RVers, but it is for road travel.
I especially like how it asks you the distance you normally like to travel in a day and, based on that information, it sets suggested night stops. No guesswork needed!
It's web-based and it's FREE! Learn more in this article.
---
Live Streaming with Facebook
Who would ever have thought that each and every one of us has the same power to broadcast the sights and sounds around us as a full television production crew! All you need is a smartphone, an Internet connection and a Facebook account.
---
Come to our Florida Rally in October
Well, it feels like "our" rally! Actually it's Living The RV Dream Gathering, hosted by John and Kathy Huggins. We'll be there giving several of our seminars PLUS a private workshop after the main rally.
Our friends from TechnoRV will be there giving seminars, Al Hesselbart – the RV Historian and, of course John and Kathy telling you all about the RVing lifestyle.
October 11-18 Bradenton, Florida
---
Slideshow Today, Gone Tomorrow
Picasa Web Albums had this really cool feature that would easily create a slideshow gadget that you could place in your blog or website to display all the photos in any album. What a great way to display 50 pictures in the space of one!
But it's gone now. Any place you put that slideshow gadget, will be like Cinderella's carriage and turn into a pumpkin – or just a white block – on August 1. This article is about a replacement that looks almost as good.
---
What Does This Button Do?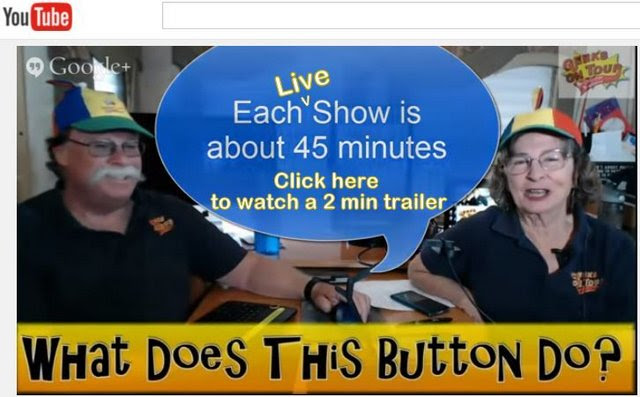 Almost every Sunday, we teach a Free Web Class on a topic related to smartphones and tablets. You are invited to join us live, or you can watch the recorded show on Youtube at any time afterwards.
Links to Shows we did in June
#86 Free Up Space on Your Phone
There are show notes which document what was covered in each show and include timeline links, so you can watch just the part of the video that you want. If you are not a Geeks on Tour member, you can watch the episodes for free on Youtube.
---

That's all for now. We hope you learned something. Your next issue will be next month. Any questions, please visit our forum. If you like this newsletter, please forward it on to your friends! If you received this issue forwarded by a friend you can subscribe to get your own copy delivered to your in box – it's free. You can also visit the archives of past newsletters,
Happy Computing!
The Geeks on Tour website is an online learning library for Travelers who want to learn to use their computers and mobile devices for managing digital photos, making blogs, using maps and other online resources. Anyone can watch our free videos, read articles on our Computer Tips for Travelers Blog, sign up for our free monthly newsletter, or Picasa weekly tips. A small fee makes you a 'member' and you can then view any of our 300+ video tutorials on these subjects in our Learning LIbrary.
Sincerely,
Geeks on Tour