Monthly Issue #102 May 10, 2016 www.geeksontour.com
Newsletter Archives ' Become a Member ' Facebook" All Videos ' Subscribe
— Geeks on Tour is member supported. We do not take advertising or receive funding from any other source. This FREE newsletter is made possible by our paid ("premium") members. Member benefits include access to over 400 tutorial videos, 'Ask the Geeks' Forum, and Show Notes for our weekly show: What Does This Button Do?.
​​​​​​​Join today
If you are already a member, THANK YOU
Geeks in April
​
For the month of April, we had one RV rally in Tallahassee, Florida, theFMCA INTO Rally. Then spent a couple of days at the wonderful Suwannee River Rendezvous campground. We took the opportunity to rent a canoe from them and spent the day on the Suwannee river. What a delight! And reminiscent of Jim's and my first outing together some 23 years ago! We also presented our What Does This Button Do? online class most every week. For more pictures, see our April Photo Album and Our Blog. Note: you can now add your comments to pictures in the Photo Album.
Where we're going: For May we are hanging out at home in Fort Lauderdale, Florida giving a few presentations at local communities and webcasting our weekly show each Sunday. See more details in the calendar listings below.
By the way, our pictures, Blogs, Web Albums, maps, and videos are all examples of what we teach. You can learn how to plan, preserve, and share your travels (or your life.) It makes the experience that much more enjoyable to get creative and share pictures, maps, stories, and movies with friends and family. Check out our Learning Library of Tutorial Videos, just go to GeeksOnTour.com and click the menu for Tutorial Videos. There are plenty of free videos in addition to our members only content to whet your appetite for learning.
---
Coming up in May/June
---
Test Your Smartphone Smarts #5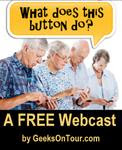 The following questions comes straight from our weekly shows.
If your phone or tablet does not have a way to scan a barcode, how do you get that?
How many fingers does it take to do Swype Typing?
True or False: you must transfer pictures from your phone or tablet to a computer before you can perform edits.
Read more Questions and Get links to the answers
---
'Ask the Geeks' Q&A Forum
Here are some of the topics that have been discussed this month. Anyone can read the forum, only members can ask questions. This is a valuable benefit of membership!
---
Apple's iCloud Photo Library vs. Google Photos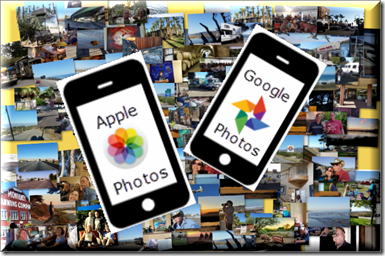 Have you been getting frustrated with constant messages by Apple that your iPhone is FULL, or that you need to buy more iCloud space? Or are you simply confused about how your iPhone works with iCloud and your Mac or PC computer? Then you owe it to yourself to take a look at Google Photos. And, if you have an Android device, Google Photos is the logical choice.
After using Google Photos for the year since it was released, and exploring the Apple iCloud system throughout that time, I think I've come up with the fundamental differences. First let me tell you how they are alike, and a little about how they work. Then I'll get into the differences so you can know what's right for you.
---
Facebook Newsfeed: How to See What you Want and Only What you Want
Did you know that you're not seeing everything you've asked for in Facebook? And, you are seeing some promotional posts that you didn't ask for. You can get inundated if you saw everything, so Facebook watches what you click on and what you "like." From that information they decide what are the Top Stories for you. It's a good thing really, but sometimes you want to have control. There are several ways you can specify what you want to see:
---
Every Traveler Needs a Good Weather App
When traveling by RV, you need to know the weather to decide:
When to stop driving for the day – if rainstorms are coming
Whether to cook out, or go out!
Whether to plan a week, or just overnight at a given location
When to start looking for a storm shelter!
This is a great use for a smartphone. It knows where you are, and it communicates with weather services. There are lots of Apps for reporting the weather, and I've tried several. I like the apps that have a moving radar video. It shows how bad the weather is and how fast it's moving. All the Apps below have this feature.
---
What Does This Button Do?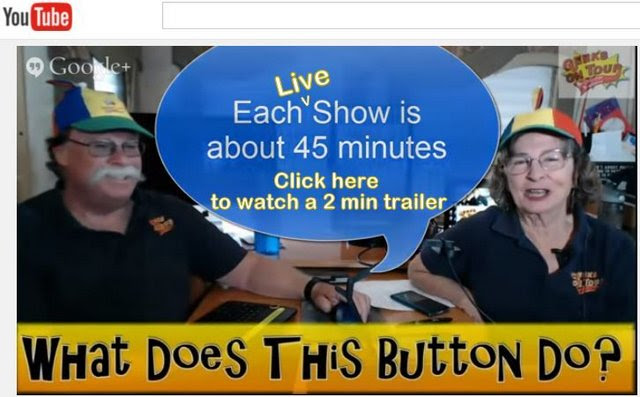 Almost every Sunday, we teach a Free Web Class on a topic related to smartphones and tablets. You are invited to join us live, or you can watch the recorded show on Youtube at any time afterwards.
Links to Shows we did in April
#77 Google Photos: What's New?
#78 Social Media w/Abby Stokes​​​​​​​
​There are show notes which document what was covered in each show and include timeline links, so you can watch just the part of the video that you want. If you are not a Geeks on Tour member, you can watch the episodes for free on Youtube.
Click here for more Articles by Geeks on Tour

That's all for now. We hope you learned something. Your next issue will be next month. Any questions, please visit our forum. If you like this newsletter, please forward it on to your friends! If you received this issue forwarded by a friend you can subscribe to get your own copy delivered to your in box – it's free. You can also visit the archives of past newsletters,
Happy Computing!
The Geeks on Tour website is an online learning library for Travelers who want to learn to use their computers and mobile devices for managing digital photos, making blogs, using maps and other online resources. Anyone can watch our free videos, read articles on our Computer Tips for Travelers Blog, sign up for our free monthly newsletter, or Picasa weekly tips. A small fee makes you a 'member' and you can then view any of our 300+ video tutorials on these subjects in our Learning LIbrary.
Sincerely,
Geeks on Tour