Monthly Issue #101 April 6, 2016                                                 www.geeksontour.com
Newsletter Archives ' Become a Member ' Facebook" All Videos ' Subscribe
— Geeks on Tour is member supported.  We do not take advertising or receive funding from any other source. This FREE newsletter is made possible by our paid ("premium") members.  Member benefits include access to over 400 tutorial videos, 'Ask the Geeks' Forum, and Show Notes for our weekly show: What Does This Button Do?.
​​​​​​​Join today
If you are already a member, THANK YOU
---
Geeks in March
​
For the month of March, we presented at a photo club in The Villages of Florida, a Genealogy group, and the FMCA RV reunion in Perry, Georgia. The picture above is from Buttonwood Bay RV park in Sebring, FL where we presented our Google Photos seminar.  For more pictures, see our March Photo Album and March's Blog.
Where we're going:  For April we are presenting at the International Area RV Rally in Tallahassee, Florida. See more details in the calendar listings below.
By the way, our pictures, Blogs, Web Albums, maps, and videos are all examples of what we teach.  You can learn how to plan, preserve, and share your travels (or your life.)  It makes the experience that much more enjoyable to get creative and share pictures, maps, stories, and movies with friends and family. Check out our Learning Library of Tutorial Videos, just go to GeeksOnTour.com and click the menu for Tutorial Videos. There are plenty of free videos in addition to our members only content to whet your appetite for learning.
---
Coming up in April/May
4/10 2pm ET: #77 What Does This Button Do?
4/15-18: FMCA INTO Rally, Tallahassee, FL​
5/3 6-8pm: PC RAMS Meeting Technology Presentation. Palm Beach Gardens, FL
5/4 7-8:30pm: Sun City Center, FL Cloud Computing Seminar
Every Sunday in May at 2pm ET "What Does This Button Do?"
---
Test Your Smartphone Smarts #4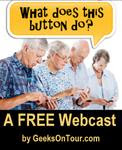 The following questions comes straight from our weekly shows.
The Notes App on iPhones and iPads can synchronize with iCloud.com AND all other apple devices if what two things are true?
What are the Two types of Updates that must be done if you have a smartphone or tablet?
True or False, if you take a picture with a smartphone or tablet, it will Always be stamped (geotagged) with the location it was taken
Read more Questions and Get links to the answers
---
'Ask the Geeks' Q&A Forum
Here are some of the topics that have been discussed this month. Anyone can read the forum, only members can ask questions. This is a valuable benefit of membership!
---
Cloud Storage: It's All About the Accounts!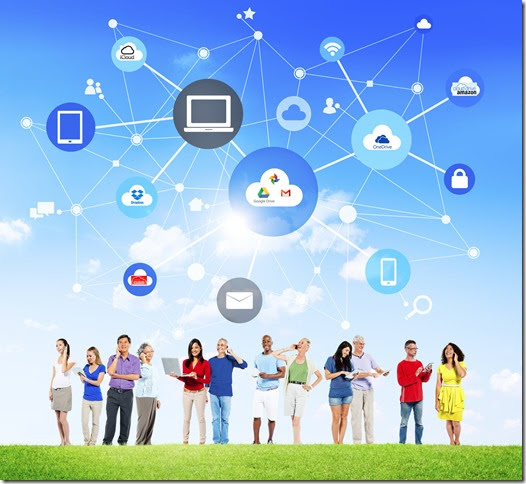 Cloud storage means using the Internet (aka the "web", aka the "cloud") to store your files rather than a computer's hard drive. Sometimes it means using the Internet AND your computer's hard drive – they synchronize with each other so that the cloud copy and the computer copy stay the same. Make revisions on one, and the system revises the other. The beauty of that type of system is that, when you don't have an Internet connection, you still have your files on your computer; and when you don't have your computer, you can get to your files on the Internet. Systems like DropBox take care of keeping the files in sync automatically.
Do you know your Account ID?
---
Navigate with GPS by Taking a Picture
That's right! Take a picture of a place you need to return to. Take that picture with a smartphone that has the GPS tagging feature turned on. Now, when you need to return, you can view the picture, see the GPS location and navigate back. Pretty slick.  Here's the details:
---
Track your Data Usage
So many people ask us, "Why am I using so much data on my phone?"
The built in data usage tools just don't give me enough detailed information.  I looked for an app and found My Data Manager.
I wanted to know exactly how much data was used by watching a 45 minute YouTube video. I turned on my data manager,  watched the video,  and got my answer:
---
What Does This Button Do?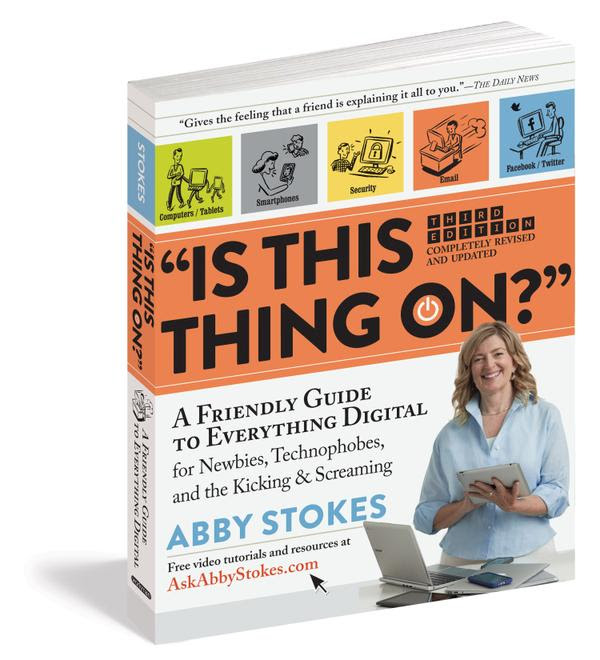 Join us on April 24 when our special guest will be Abby Stokes, author of the book, "Is This Thing On?" Abby is well known for her gentle, and humorous, methods of teaching technology to Newbies, Technophobes, and the Kicking and Screaming! She speaks to libraries and computer clubs all over the country and her website: AskAbbyStokes.com includes a blog and many tutorial videos.
We will be discussing the world of Social Media with her on our Sunday Webcast. You are invited to join us live, or you can watch the recorded show on Youtube at any time afterwards.
Special Guest: Abby Stokes
Topic: Social Media
Date: April 24 at 2pm Eastern
Links to Shows we did in March
#75 Multitouch Screens on Smartphones
#76 Printing from your Smartphones
​There are show notes which document what was covered in each show and include timeline links, so you can watch just the part of the video that you want. If you are not a Geeks on Tour member, you can watch the episodes for free on Youtube.
---
Click here for more Articles by Geeks on Tour

That's all for now. We hope you learned something. Your next issue will be next month. Any questions, please visit our forum. If you like this newsletter, please forward it on to your friends! If you received this issue forwarded by a friend you can subscribe to get your own copy delivered to your in box – it's free. You can also visit the archives of past newsletters,
Happy Computing!
The Geeks on Tour website is an online learning library for Travelers who want to learn to use their computers and mobile devices for managing digital photos, making blogs, using maps and other online resources. Anyone can watch our free videos, read articles on our Computer Tips for Travelers Blog, sign up for our free monthly newsletter, or Picasa weekly tips. A small fee makes you a 'member' and you can then view any of our 300+ video tutorials on these subjects in our Learning LIbrary.
Sincerely,
Geeks on Tour