Monthly Issue #100 March 1, 2016 www.geeksontour.com
Newsletter Archives ' Become a Member ' Facebook" All Videos ' Subscribe
— Geeks on Tour is member supported. We do not take advertising or receive funding from any other source. This FREE newsletter is made possible by our paid members. Member benefits include access to over 400 tutorial videos, a members' Q&A Forum, and Show Notes for our weekly show: What Does This Button Do?. Join today
If you are already a member, THANK YOU
---
February: Newsletter #100!
Since mid 2007, we've been sending out a monthly newsletter and this is issue #100! You can see every one of them in the archive. To celebrate our 100th issue, we're going to spotlight our very first issues. The more things change, the more they stay the same! Our first issues had articles on adding video to your blog, using copy and paste, and getting Internet on the Road! Guess what? We're still teaching those things but now we're using smartphones more than computers.
​
For the month of February, we've stayed at a couple of RV parks, one Elks Lodge, and our townhouse in Fort Lauderdale. We presented 11 seminars to audiences totaling 700 people. The picture above is our motorhome on the road at a Thousand Trails park called Peace River. For more pictures, see our February Photo Album and February's Blog.
Where we're going: For March we are back on the road to central and north Florida, then Georgia for the FMCA Convention, and the Safari pre-rally. See more details in the calendar listings below.
​By the way, our pictures, Blogs, Web Albums, maps, and videos are all examples of what we teach. You can learn how to plan, preserve, and share your travels (or your life.) It makes the experience that much more enjoyable to get creative and share pictures, maps, stories, and movies with friends and family. Check out our Learning Library of Tutorial Videos, just go to GeeksOnTour.com and click the menu for Tutorial Videos. There are plenty of free videos in addition to our members only content to whet your appetite for learning.
---
Coming up in March/April
---
Test Your Smartphone Smarts
The following list of questions comes straight from our weekly show.
How do you turn on or off the setting for geotagging your photos?
How do you start Siri on iPhone/iPad?
How do you use Google Calendar on an iPhone or iPad when there is no App available?
If your iPad or iPhone is missing, what website do you use to find it?
Read the Article and Get links to the answers
---
Q&A Forum
Here are some of the topics that have been discussed this month. Anyone can read the forum, only members can ask questions. This is a valuable benefit of membership!
---
Add Video to Your Blog
Our very first newsletter was the July 12, 2007 issue and it's main article was "Adding Video to your Blog." 100 issues later, this still seems like a very current lesson! It has changed a bit, but is still essentially the same. If you use Blogger, there is a button on the tool bar that stands for "Insert Video"
It used to look like a colored piece of film, now it looks like a black and white clapper. The dialog box back then only gave you one option – upload a video from your computer. Today there are 4 options, Upload, From YouTube, My YouTube videos, and From your phone! How easy is that?! Take a video with your phone, let Google Photos back it up to your Google Account, then it's available to insert in your blog post.
---
Copy, Paste with Smartphones
In the second issue of our newsletter, back in August of 2007, a main article was about Cut, Copy, Paste. That article was talking about computers:
Cut – select the text or object you want to remove and use Ctrl-X (or right-click and select 'Cut')
Copy – select the text you want to duplicate and use Ctrl-C (or right-click and select 'Copy')
Paste – position your cursor where you want the cut or copied text to appear and use Ctrl-V (or right-click and select 'Paste')
Now people want to know how to copy and paste with their smartphones!
---
Internet on the Road: Then and Now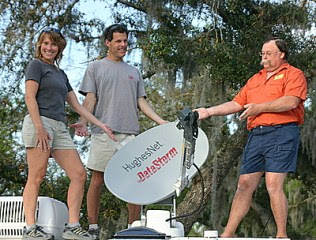 Our third newsletter – August 4, 2007 – featured an article "The #1 Best Thing to Improve your Wi-Fi Internet Connection." If you read that article, you will see that surprisingly, not much has changed about improving your Wi-Fi connection. Back then, we used a Satellite dish for our connection, and Jim installed them on other's RVs.
Our latest episode of What Does This Button Do was all about Internet on the Road today and featured our friends Chris Dunphy and Cherie Ve Ard of RVMobileInternet.com. Click here to watch the recording and/or read the show notes.
---
What Does This Button Do? Recent Shows.
#70 Google Maps & Multiple Destinations
#71 Picasa Retires, Should you Switch to Google Photos?
#72 Internet on the Road w/Technomadia
#73 Fun with Phones – a Grab Bag of Tips
​There are show notes which document what was covered in each show and include timeline links, so you can watch just the part of the video that you want. If you are not a Geeks on Tour member, you can watch the episodes for free on Youtube.
Click here for more Articles by Geeks on Tour

That's all for now. We hope you learned something. Your next issue will be next month. Any questions, please visit our forum. If you like this newsletter, please forward it on to your friends! If you received this issue forwarded by a friend you can subscribe to get your own copy delivered to your in box – it's free. You can also visit the archives of past newsletters,
Happy Computing!
The Geeks on Tour website is an online learning library for Travelers who want to learn to use their computers and mobile devices for managing digital photos, making blogs, using maps and other online resources. Anyone can watch our free videos, read articles on our Computer Tips for Travelers Blog, sign up for our free monthly newsletter, or Picasa weekly tips. A small fee makes you a 'member' and you can then view any of our 300+ video tutorials on these subjects in our Learning LIbrary.
Sincerely,
Geeks on Tour