Monthly Issue # 99 February 7, 2016                                                 www.geeksontour.com
Newsletter Archives ' Become a Member ' Facebook" All Videos ' Subscribe
— Geeks on Tour is member supported.  We do not take advertising or receive funding from any other source. This FREE newsletter is made possible by our paid members.  Member benefits include access to over 400 tutorial videos, a members' Q&A Forum, and Show Notes for our weekly show: What Does This Button Do?.  Join today
If you are already a member, THANK YOU
---
January: Florida
Except for one week of presenting seminars in the Sarasota area, we stayed at home in Fort Lauderdale, FL. We even took advantage of our beautiful Broward Center for Performing Arts and saw a play. The picture above is a view from the Center. For more pictures, see our January Photo Album.
Where we're going:  February is almost a duplicate of January, a week on the west side, then several seminars on the east side – so we'll stay at home in Fort Lauderdale for the rest of February.
By the way, our pictures, Blogs, Web Albums, maps, and videos are all examples of what we teach.  You can learn how to plan, preserve, and share your travels (or your life.)  It makes the experience that much more enjoyable to get creative on the computer and share pictures, maps, stories, and movies with friends and family. Check out ourLearning Library of Tutorial Videos. There are plenty of free videos in addition to our members only content to whet your appetite for learning.
---
Coming up in February/March
What Does This Button Do? shows on 2/7, 2/14 2/21, 2/28 and 3/6, 3/13
2/8 1pm: Thousand Trails Peace River: Google Photos seminar
2/9 10am:Mice-k-teers Computer Group, Sarasota, FL Google Photos
2/10 1pm: Cascades Computer Club, Port St Lucie, FL: Safe Computing
2/15 7pm: Bellaggio Computer Club
2/17 7:30: Boca Raton Computer Society: Smartphone Overview
2/18 5pm: PCBUG of Naples, FL: Smartphones and Tablets
2/22 10am: Cascade Lakes in Boynton Beach
3/1 1pm: Buttonwood Bay RV in Sebring: Google Photos
3/3 9:30am: The Villages Sunset Pointe Photo Club: Google Photos
3/10 7pm: Orlando – Central FL Genealogy Society: Picasa/Google Photos
3/11 – 3/15: Safari RV Rally, Perry, GA
3/17-20: FMCA Rally in Perry GA
---
Test Your Smartphone Smarts
The following list of questions comes straight from our weekly show. Next to each set of questions is a link to the place in the show video where we discuss the "Review Questions" for each show. So you can read the questions, think how you would answer them, and then watch the show where Jim and Chris discuss the questions and give their answers. A quick way to learn!
---
Q&A Forum
Here are some of the topics that have been discussed this month. Anyone can read the forum, only members can ask questions. This is a valuable benefit of membership!
---
Google Maps and Multi-Stop Routes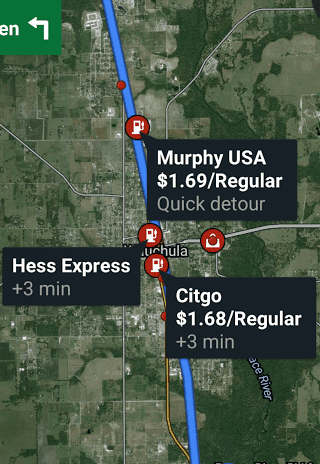 If you use Google Maps on your phone to navigate, you've probably noticed that it has been limited to navigating from your current location to one destination. That is normally enough, but there are some times that you want to take a little detour somewhere in the middle.
In the past, you needed to cancel your current route and start over with getting instructions for the detour. The latest update changes that.
---
Let Alfred Watch Your House
If you have a house that will be empty when you're traveling, you'll like Alfred!
Alfred is a free app and the only hardware it needs is an old smartphone or tablet that you're not using anymore. Your house will also need a good, always on, Internet connection with WiFi. It started as an Android only App but recently released an iOS version. The Android version has a few more features, but both work.
---
What Does This Button Do? Recent Shows.
#67 Password Discussion w/ Mike Wendland
There are show notes which document what was covered in each show and include timeline links, so you can watch just the part of the video that you want. If you are not a Geeks on Tour member, you can watch the episodes for free on Youtube.
Click here for more Articles by Geeks on Tour

That's all for now. We hope you learned something. Your next issue will be next month. Any questions, please visit our forum. If you like this newsletter, please forward it on to your friends! If you received this issue forwarded by a friend you can subscribe to get your own copy delivered to your in box – it's free. You can also visit the archives of past newsletters,
Happy Computing!
The Geeks on Tour website is an online learning library for Travelers who want to learn to use their computers and mobile devices for managing digital photos, making blogs, using maps and other online resources. Anyone can watch our free videos, read articles on our Computer Tips for Travelers Blog, sign up for our free monthly newsletter, or Picasa weekly tips. A small fee makes you a 'member' and you can then view any of our 300+ video tutorials on these subjects in our Learning LIbrary.
Sincerely,
Geeks on Tour