Monthly Issue # 97 December 3, 2015 www.geeksontour.com
Newsletter Archives ' Become a Member ' Facebook" All Videos ' Subscribe
— Geeks on Tour is member supported. We do not take advertising or receive funding from any other source. This FREE newsletter is made possible by our paid members. Member benefits include access to over 300 tutorial videos, a members' Q&A Forum, and Show Notes for our weekly show: What Does This Button Do?. Join today
If you are already a member, THANK YOU
November: Florida!
Where we've been: In November we had a little change of pace. In addition to our normal RVing and teaching, we also got a taste of house living in our Fort Lauderdale condo. It was 12 years ago that we sold our house in Fort Lauderdale and hit the road. In those years of traveling all over this country, we didn't find anyplace that we liked any better than South Florida. We still consider the motorhome as home #1, but having a home #2 with Fiber Internet, cable TV, and a tropical paradise backyard, is pretty cool. We actually had fun transforming the backyard into a paver/patio. Check out the 1 minute movie of this project in the article about Smartphone Video – Fast and Slow below!
See our 2015 November Photo Album for more pictures. I'm afraid ourBlog has no new entries for November, and our 2015 map hasn't changed either. Somehow, when you're sitting still time seems to slip by a lot faster!
Where we're going: Something completely different this month! We signed up for an educational tour of Cuba with Road Scholar. We'll tell you all about it when we get back. We'll also tell you how our house web cam performed using an old tablet and a free App!
By the way, our pictures, Blogs, Web Albums, maps, and videos are all examples of what we teach. You can learn how to plan, preserve, and share your travels (or your life.) It makes the experience that much more enjoyable to get creative on the computer and share pictures, maps, stories, and movies with friends and family. Check out ourLearning Library of Tutorial Videos. There are plenty of free videos in addition to our members only content to whet your appetite for learning.
---
Coming up in December/January
---
Learn Google Photos!
We are obsessed with Google Photos! It is the most modern, easiest, and most fun way to enjoy your pictures from your smartphone, and all your other cameras too. With just a little bit of learning to get you started on the right track, it is work-free, worry-free, and lots of fun. The more learning, the more fun. If you love your pictures, you'll love Google Photos. We're writing a brand new "Learn Google Photos" book and we want to write a book that you'll really like. So, we want you to tell us what you like! We've set up a private Facebook group specifically to share the book-in-process and get feedback from you. All you have to do is log in to Facebook and join the Learn Google Photos Group. If you are a Geeks on Tour Member, we have a tutorial videos page already set up for you!
Join the Learn Google Photos Facebook Group
---
Q&A Forum
Here are some of the topics that have been discussed this month. Anyone can read the forum, only members can ask questions. This is a valuable benefit of membership!
---
Scanning Documents with Evernote
Don't just take a picture of documents you want to store in Evernote … Take a Document picture. There's a big difference.
One of the things I like to do with Evernote is take pictures of receipts that I feel I need to keep. Even if I also keep the paper copy, having a scanned image is especially good with the thermal paper type of receipts because they fade over time. To substitute for scanning, it's import to know the difference between taking a regular photo note and a 'document' photo note?
---
Smartphone Video – Fast and Slow

Explore and Experiment. These are two things you should be doing with your smartphone all the time! Just when you think you can't possibly find anything new your phone can do, a friend will tap a button that makes magic happen and you'll ask, "How'd you DO that?" One of those things for me is the fun, speeded up videos that are popping up on Facebook all the time.
I understood the iPhones ability to take Slow Motion video, but in one of our smartphone photography classes a student played with the Time-Lapse setting instead and showed me a video of me walking around the classroom looking like an old Keystone Cops movie!
This article tells you how, and shows you a little video example at the end.
---
Offline Navigation with Google Maps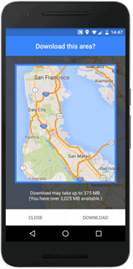 I recently heard about a new way to download Google Maps so they are accessible offline. I've used offline Google Maps before, but we couldn't search or navigate. It's search and navigate that makes Google Maps so useful! Now, I'm reading that maps saved offline can be used for search and navigation. Hooray! So, I immediately opened my Google Maps to try it. It didn't work. I couldn't find the "Download" button anywhere and that is what the instructions told me to use.
Read the article to learn what I did wrong, and how you can not make my mistakes!
---
Click here for more Articles by Geeks on Tour
That's all for now. We hope you learned something. Your next issue will be next month. Any questions, please visit our forum. If you like this newsletter, please forward it on to your friends! If you received this issue forwarded by a friend you can subscribe to get your own copy delivered to your in box – it's free. You can also visit the archives of past newsletters,
Happy Computing!
The Geeks on Tour website is an online learning library for Travelers who want to learn to use their computers and mobile devices for managing digital photos, making blogs, using maps and other online resources. Anyone can watch our free videos, read articles on our Computer Tips for Travelers Blog, sign up for our free monthly newsletter, or Picasa weekly tips. A small fee makes you a 'member' and you can then view any of our 300+ video tutorials on these subjects in our Learning LIbrary.
Sincerely,
Geeks on Tour