Monthly Issue # 95 October 2, 2015                                                 www.geeksontour.com
Newsletter Archives ' Become a Member ' Facebook" All Videos ' Subscribe
— Geeks on Tour is member supported.  We do not take advertising or receive funding from any other source. This FREE newsletter is made possible by our paid members.  Member benefits include access to over 300 tutorial videos, a members' Q&A Forum, and Show Notes for our weekly show: What Does This Button Do?.  Join today
If you are already a member, THANK YOU
September: Work, Play, Travel Balance
Where we've been: In September we started out at the South Jersey Shore, then headed south. We enjoyed Washington D.C. for a couple of days (see video), then worked our way south to Florida. See the article this month "These Geeks are On Tour" to see what a week in our life looks like.
See our 2015 September Photo Album for more pictures. And theSeptember blog for stories, and of course, our 2015 map for everything.
Where we're going:  We start out October OFF-GRID with a week long scuba diving trip to the Bahamas. We'll be aboard a sailboat with Blackbeard's. As far as we know we will have absolutely no Internet access, so, if you contact us – do not expect a response until after October 10. We do plan to stream our weekly show on schedule October 11.
​
Living the RV Dream Gathering: In October we are looking forward to a special rally. October 21-25, in Bradenton, FL. It is hosted by John and Kathy Huggins of the popular RVing podcast: Living the RV Dream. We will give a couple of seminars during the rally, plus we will have 2 days of hands-on smartphone and photo classes afterward. For more info email:ltrvdgathering@yahoo.com.
​
By the way, our pictures, Blogs, Web Albums, maps, and videos are all examples of what we teach.  You can learn how to plan, preserve, and share your travels (or your life.)  It makes the experience that much more enjoyable to get creative on the computer and share pictures, maps, stories, and movies with friends and family. Check out ourLearning Library of Tutorial Videos. There are plenty of free videos in addition to our members only content to whet your appetite for learning.
---
Coming up in October/November
What Does This Button Do? shows on 10/11, 10/18, 10/25, 11/1, 11/8, 11/15, 11/22
10/21-25 Living the RV Dream Gathering in Bradenton, FL. ​Schedule
10/26 9am-2pm: Hands-on Smartphone Photography class for Living the RV Dream Gathering attendees.  $30, $20 for Geeks on Tour Members
11/8: Presentation at Central Florida Computer Society in Maitland, FL. We will do our What Does This Button Do? show live at their meeting!
11/10-13 Roadtrek Technology and Camping Rally, Kissimmee, FL
---
Q&A Forum
Here are some of the topics that have been discussed this month. Anyone can read the forum, only members can ask questions. This is a valuable benefit of membership!
---
Cellular Internet Connections: It's not just the Signal, it's the Speed.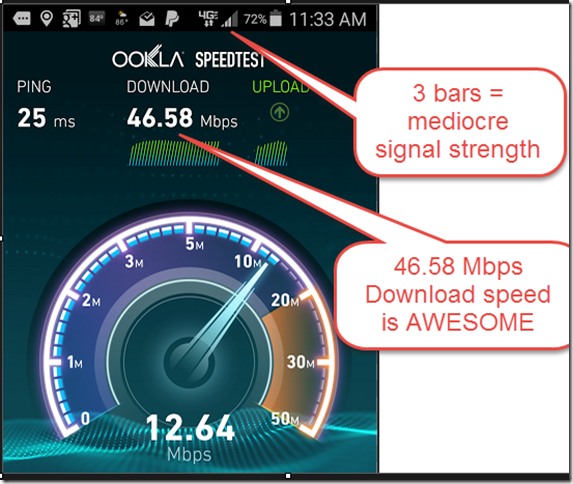 We travel all over the country in our Motorhome and we depend on our website, GeeksOnTour.com, for our living. Internet connections are very important to us and we rely on Verizon thru our Android phones to provide that connection. We also live-stream a smartphone educational show every week.
Most people judge their cellular Internet connection by simply looking at the signal bars on their phone. 1-2 bars = bad; 4-5 bars = good. But that's not always true.
---
Evernote can Receive your eMail
If you haven't heard of Evernote, do yourself a favor and watch our "What Does This Button Do?" show, episode #54. We give an introduction to Evernote starting at 06:49 into the show. Evernote is our Go To place to enter any kind of information we want to keep, remember, find later. That includes a simple note to remember something you just heard, a snapshot of an eye exam and prescription, a copy of a webpage you want to read later, a snapshot of a receipt, and many many more. This article is about the fact that your Evernote account comes with a special email address. We'll explain how to use it.
---
These Geeks are On Tour!
If you've ever wondered what's the deal with Geeks on Tour? Why do they call themselves that? What do they mean by "On Tour?" This article will give you the story of a week in the life of Geeks On Tour.
---
Easy, and Powerful, Photo Editing with Google Photos
Is it possible to make photo editing simpler AND more powerful at the same time? We think Google Photos has done just that.
Check out this article and the video included and see what you think.
---
---
September episodes of What Does This Button Do? Smartphone Educational Show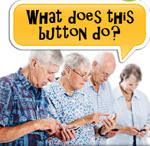 It's an educational show about smartphones and tablets. We deliver it streaming live over the web on Sunday afternoons. Every show is about 45 minutes and it is automatically recorded as a Youtube video – so if you miss it live, no problem.  All the 'reruns' are listed on our Weekly Show Page. Here's a listing of our episodes this past month. The Youtube links are free for anyone to watch. If you are a Geeks on Tour member, you can use the Links that include our Show Notes and Links to specific topics in the show.
---
That's all for now. We hope you learned something. Your next issue will be next month. Any questions, please visit our forum. If you like this newsletter, please forward it on to your friends! If you received this issue forwarded by a friend you can subscribe to get your own copy delivered to your in box – it's free. You can also visit the archives of past newsletters,
Happy Computing!
The Geeks on Tour website is an online learning library for Travelers who want to learn to use their computers and mobile devices for managing digital photos, making blogs, using maps and other online resources. Anyone can watch our free videos, read articles on our Computer Tips for Travelers Blog, sign up for our free monthly newsletter, or Picasa weekly tips. A small fee makes you a 'member' and you can then view any of our 300+ video tutorials on these subjects in our Learning LIbrary.
Sincerely,
Geeks on Tour