Monthly Issue # 94 September 3, 2015                                                 www.geeksontour.com
Newsletter Archives ' Become a Member ' Facebook" All Videos ' Subscribe
— Geeks on Tour is member supported.  We do not take advertising or receive funding from any other source. This FREE newsletter is made possible by our paid members.  Member benefits include access to over 300 tutorial videos, a members' Q&A Forum, and Show Notes for our weekly show: What Does This Button Do?.  Join today
If you are already a member, THANK YOU
---
August: Travel Mode
Where we've been: In August we started out on the banks of the Mississippi river in the Quad Cities by Moline, Illinois. We taught several seminars for the Quad Cities Computer Society. When we left there, we headed east, staying at 2 different Thousand Trails parks on our way to the Jersey Shore where we had a 3 week stay planned to recoup and visit friends. Here is a short (1 minute) video of our month.
See our 2015 August Photo Album for more pictures. And the August blogfor stories, and of course, our 2015 map for everything.
Where we're going:  For September we'll be winding our way back south to Florida. We'll stop to give a seminar in D.C. and Hilton Head. Then in October, we have a scuba trip planned to the Bahamas.
Living the RV Dream Gathering: In October we are looking forward to a special rally. October 21-25, in Bradenton, FL. It is hosted by John and Kathy Huggins of the popular RVing podcast: Living the RV Dream. We will give a couple of seminars during the rally, plus we will have 2 days of hands-on smartphone and photo classes afterward. For more info email:ltrvdgathering@yahoo.com.
By the way, our pictures, Blogs, Web Albums, maps, and videos are all examples of what we teach.  You can learn how to plan, preserve, and share your travels (or your life.)  It makes the experience that much more enjoyable to get creative on the computer and share pictures, maps, stories, and movies with friends and family. Check out ourLearning Library of Tutorial Videos. There are plenty of free videos in addition to our members only content to whet your appetite for learning.
---
Coming up in September/October
---
Q&A Forum
Here are some of the topics that have been discussed this month. Anyone can read the forum, only members can ask questions. This is a valuable benefit of membership!
---
Mapping and Sharing your Travels with Google My Maps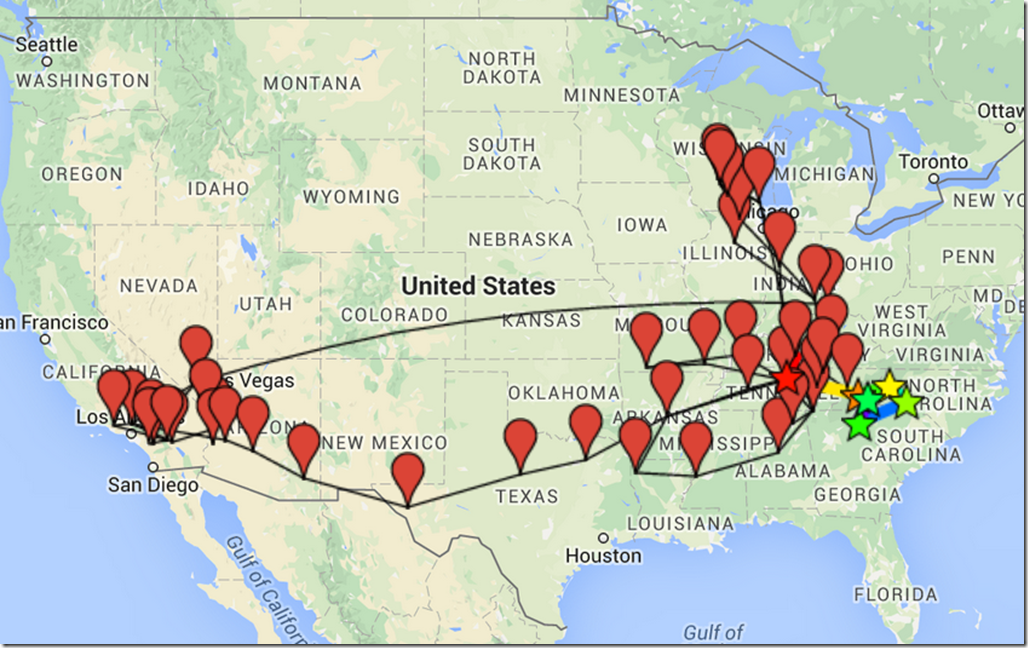 Heard from a fellow RVer:
"We use Google Maps as a way to keep our family informed of our plans for the year. The places we have been are shown in the standard red tear drop marker. The places we are going to are shown as a star. Each location is numbered so they will know what order we are visiting these locations.
They can click on the marker and get the dates we will be at the campsite and possibly some information about why we are there. They can click on the star and have the physical address, phone number and website of the locations where we are and where we plan to travel. "
---
The Future is Upon Us, Meet Alexa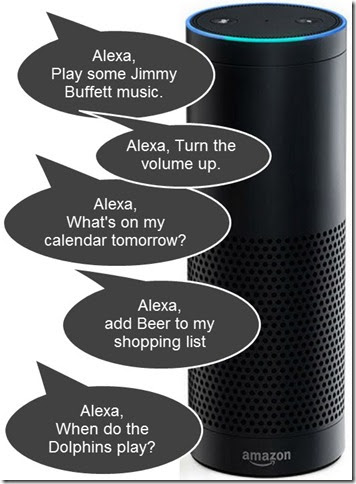 The Amazon Echo, aka Alexa, is different from Siri or Google Now or even Cortana.  It's a stand-alone device. It's hands-free and always on, connected to the Internet through your home WiFi. The Echo connects to Amazon's voice service on the Internet to answer questions, play music, read the news, weather, and sports—all instantly. All you have to do is ask. It's hard not to think of it as a "she."
It is about the size of a Pringles can and is designed to sit unobtrusively somewhere in a room and listen for it's wake word, "Alexa." With seven microphones, Alexa can hear you from across the room—
---
Taming your Facebook News Feed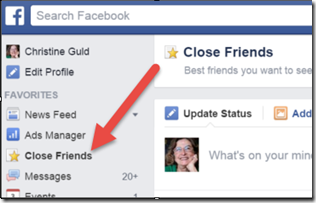 Some people say their Facebook has too much on it and others tell me theirs has too little. On the 'too much' side, do you wish there weren't so many ads and other promotional posts in Facebook? And, on the 'too little' side, do you wish you could be sure of seeing everything posted by good friends?
What if I told you there was an easy way to accomplish both of those results in one simple feature? It's called "Close Friends" and I'll tell you exactly how to use it
---
Listen to RV Radio Shows via Podcasts
Think of podcasts like Blogs that you can listen to, rather than read.  I listen to three personally, and you may know of many more.
A podcast is a computer file, usually in the .mp3 format.  What I'm talking about in this article is audio only, although podcasts can also include video.  Audio podcasts are great to listen to as you're driving down the road.  You can listen to it from your computer, or you can download it to an MP3 player, or even to your smart phone.  We use our smartphones and plug the audio into our radio (or use bluetooth) so we hear the sound from the radio speakers.
---
August episodes of What Does This Button Do? Smartphone Educational Show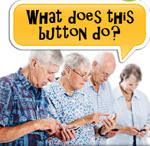 It's an educational show about smartphones and tablets. We deliver it live over the web on Sunday afternoons. Every show is about 40 minutes and it is automatically recorded as a Youtube video – so if you miss it live, no problem.  All the 'reruns' are listed on our Weekly Show Page. Here's a listing of our episodes this past month. The Youtube links are free for anyone to watch. If you are a Geeks on Tour member, you can use the Links that include our Show Notes and Links to specific topics in the show.
| | | | |
| --- | --- | --- | --- |
| Episode and Date | Topics | Show Video with Notes for Members | Free on Youtube |
| #50: 8/30/15 | Focus on Photos, Tip: multitasking while on phone call, App: Fish Predictor. | | Youtube #50 |
| #49: 8/23/15 | Cleaning up Contacts2 Tip: Google Search, App: Shuttle | #49 w/Notes and Links | Youtube #49 |
| #48: 8/16/15 | Cleaning up Contacts1 Tip: Google Now, App: NPR One | #48 w/Notes and Links | Youtube #48 |
---
That's all for now. We hope you learned something. Your next issue will be next month. Any questions, please visit our forum. If you like this newsletter, please forward it on to your friends! If you received this issue forwarded by a friend you can subscribe to get your own copy delivered to your in box – it's free. You can also visit the archives of past newsletters,
Happy Computing!
The Geeks on Tour website is an online learning library for Travelers who want to learn to use their computers and mobile devices for managing digital photos, making blogs, using maps and other online resources. Anyone can watch our free videos, read articles on our Computer Tips for Travelers Blog, sign up for our free monthly newsletter, or Picasa weekly tips. A small fee makes you a 'member' and you can then view any of our 300+ video tutorials on these subjects in our Learning LIbrary.
Sincerely,
Geeks on Tour