Monthly Issue # 92 July 7, 2015 www.geeksontour.com
Newsletter Archives ' Become a Member ' Facebook" All Videos ' Subscribe
— Geeks on Tour is member supported. We do not take advertising or receive funding from any other source. This FREE newsletter is made possible by our paid members. Member benefits include access to over 300 tutorial videos, a members' Q&A Forum, and Show Notes for our weekly show: What Does This Button Do?. Join today
If you are already a member, THANK YOU
June Travels: England and Belgium
Where we've been: In June we did some proper traveling, as our British friends would say! We took a 9 hour flight across the pond and visited our friends, Phil and Tracey May in England. We saw the sights and tasted the delights, taking nearly 2,000 pictures and 100+ videos as we went!
80% of those photos were taken with our smartphones and we had a lot of fun with the new Google Photos App for editing and sharing them. The collage above was created on my phone using Google photos as well.
See our 2015 England Photo Album for more pictures.
We also enjoyed learning how to connect to the Internet while traveling abroad. We've shared what we learned in the article below and in Episode 43 of our Sunday show, What Does This Button Do? You can watch theYoutube recording.
Where we're going: For July, we'll be headed north for our "Summer Tour," The first rally is in Lewisburg, W. Virginia. Then on to Madison, Wisconsin. In August we'll be in Moline, IL and New Jersey.
​
By the way, our pictures, Blogs, Web Albums, maps, and videos are all examples of what we teach. You can learn how to plan, preserve, and share your travels (or your life.) It makes the experience that much more enjoyable to get creative on the computer and share pictures, maps, stories, and movies with friends and family. Check out ourLearning Library of Tutorial Videos. There are plenty of free videos in addition to our members only content to whet your appetite for learning.
---
Coming up in July/August
---
Q&A Forum
Here are some of the topics that have been discussed this month. Anyone can read the forum, only members can ask questions. This is a valuable benefit of membership!
---
June episodes of What Does This Button Do? Smartphone Educational Show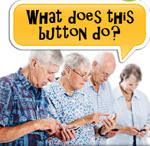 It's an educational show about smartphones and tablets. We deliver it live over the web on Sunday afternoons. Every show is about 40 minutes and it is automatically recorded as a Youtube video – so if you miss it live, no problem. All the 'reruns' are listed on our Weekly Show Page. Here's a listing of our episodes this past month. Each episode is about 40 minutes long. The Youtube links are free for anyone to watch. If you are a Geeks on Tour member, you can use the Links that include our Show Notes and Links to specific topics in the show.
Episode and Date
Topics
Show Video with Notes for Members
Free on Youtube
#42: 6/14/15
Tips: Caps on Swype, Bubble Level on iPhone
Getting Started with Google Photos
#42 w/Notes and Links
Youtube #42
#43: 7/5/15

Tips: voice control camera, dictation.

Internet Connections overseas

App: Disney ride wait times

Youtube #43

Click Here and then click Follow to get notices of future shows.
---
Three Ways to Get Internet Overseas
Internet access while traveling has been a primary topic of ours for many years. But we've only traveled in the US. Now we're on a trip visiting friends in England and we're taking the opportunity to learn about Global Internet access.
Use local Wi-Fi hotspots. Turn off the phone's mobile data, or turn on Airplane mode.
Use your cell provider in Roaming mode. Depending on your provider, this can be very expensive (Verizon) or included at no extra charge like with T-Mobile.
Buy a SIM card from a local provider and put it in your phone.
---
Google Photos, Loving it!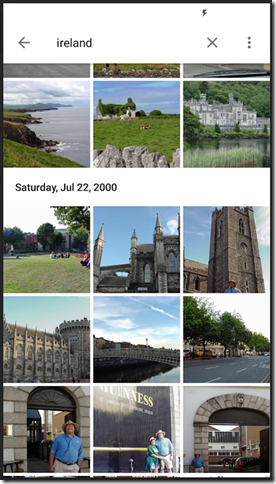 Watch out! Once you get started using Google Photos, it may be a while before you come up for air! You can search and find photos you've almost forgotten about, and Google Photos will automatically make stories, movies, and collages for you.
Always wanted to show your friends photos from your trip-of-a-lifetime, but didn't want to bore them with hours of slideshows? Google Photos will compile the best photos into a story or even a 2 minute video that you can be proud to show off. You can even share it on Facebook or via Email.
In this article we give you some specific examples of how Google Photos is changing the way we view pictures, and liberating us from under those mountains of digital photos we are taking these days.
---
Navigating in Europe, when it Really Counts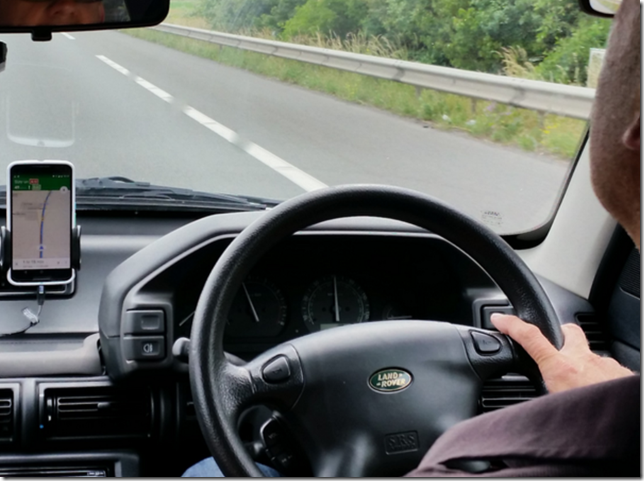 We try to keep paper maps handy, but especially when you're in a foreign country, in a city with narrow cobblestone roads and lots of roundabouts, you want the best navigation possible. We were just there, and this article is about how we did it.
Our friends Phil and Tracey did all the driving, but they took us to some out-of-the-way places and we were so glad we could help with the navigation.
---
Click here for more Articles by Geeks on Tour
That's all for now. We hope you learned something. Your next issue will be next month. Any questions, please visit our forum. If you like this newsletter, please forward it on to your friends! If you received this issue forwarded by a friend you can subscribe to get your own copy delivered to your in box – it's free. You can also visit the archives of past newsletters,
Happy Computing!
The Geeks on Tour website is an online learning library for Travelers who want to learn to use their computers and mobile devices for managing digital photos, making blogs, using maps and other online resources. Anyone can watch our free videos, read articles on our Computer Tips for Travelers Blog, sign up for our free monthly newsletter, or Picasa weekly tips. A small fee makes you a 'member' and you can then view any of our 300+ video tutorials on these subjects in our Learning LIbrary.
Sincerely,
Geeks on Tour