Monthly Issue # 90 April 30, 2015 www.geeksontour.com
Newsletter Archives ' Become a Member ' Facebook" All Videos ' Subscribe
— Geeks on Tour is member supported. We do not take advertising or receive funding from any other source. This FREE newsletter is made possible by our paid members. Member benefits include access to over 300 tutorial videos, a members' Q&A Forum, and Show Notes for our weekly show: What Does This Button Do?. Join today
If you are already a member, THANK YOU
---
April Travels
Where we've been: In April we began our "Sea to Shining Sea" trek east. Starting from Malibu Beach RV Resort overlooking the Pacific Ocean, stopped for a little tourist time in Tombstone, AZ and at Faywood Hotsprings, NM. Jim got some great aerial video with his quadcopter at Monahans Sandhills in Texas and a Stonehenge replica in Odessa, TX.
See our April Photo Albums for lots of pictures.
Where we're going: For May and the beginning of June we'll be in Florida getting a grandkid-fix and working on our website. Currently, we have no appearances scheduled, but we will be doing our Sunday shows, "What Does This Button Do?"
By the way, our pictures, Blogs, Web Albums, maps, and videos are all examples of what we teach. We teach you how to plan, preserve, and share your travels (or your life.) It makes the experience that much more enjoyable to get creative on the computer and share pictures, maps, stories, and movies with friends and family. Check out ourLearning Library of Tutorial Videos. There are plenty of free videos in addition to our members only content to whet your appetite for learning.
---
Coming up in May/June
May 21 Remote appearance for the Good Sam Samboree in Massachussets
May 3, 10,17,24, 31: What Does This Button Do web show, What Does This Button Do?
June: visiting Bexhill, England!
---
Q&A Forum
Here are some of the topics that have been discussed this month. Anyone can read the forum, only members can ask questions. This is a valuable benefit of membership!
---
April episodes of What Does This Button Do? Smartphone Educational Show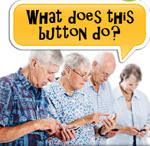 It's an educational show about smartphones and tablets. We deliver it live over the web on Sunday afternoons. Every show is about 40 minutes and it is automatically recorded as a Youtube video – so if you miss it live, no problem. All the 'reruns' are listed on our Weekly Show Page. Here's a listing of our episodes this month. Each episode is about 40 minutes long. The Youtube links are free for anyone to watch. If you are a Geeks on Tour member, you can use the Lin ks that include our Show Notes and Links to specific topics in the show.
| | | | |
| --- | --- | --- | --- |
| Episode and Date | Topics | Show Video with Notes for Members | Free on Youtube |
| #37: 4/26/15 | Live from an RV Rally! Interview Chris Yust, Mac McCoy, Smitty & Louise from RVers Friend, Tom from Jirah. Quick Tip on Airplane mode | | Youtube #37 |
| #36: 4/19/15 | From the home of Frank Drew. Smartphone Apps vs Mobile Websites, "Note To Self" Apps: Dark Sky and Uber | #36 w/Notes and Links | Youtube #36 |
| #35: 4/12/15 | Google Now – your personal assistant. Deleting multiple pictures, Hot Springs | #35 w/Notes | Youtube #35 |
| #34: 4/5/15 | Transferring Pictures from mobile device to Computer, tip on Uninstalling Apps | #34 w/Notes | Youtube #34 |
---
Google My Maps and Custom POI Files
I've written about Google's My Maps in this blog before. As much as possible I am now using Google's My Maps for planning, and recording, our travels. Something I like to see when working on a plan is the location of all our Thousands Trails membership parks.
This is a screenshot of what it looks like on my phone. Each brown square has a TT for Thousand Trails. This is stored in a 'layer' on my map and I can turn it on or off at any time.
I got this data from the Discovery owners website. I used the Google earth format.
You can also create your own data set using Excel.
---
Tour the US with 50 Landmarks
Many people are posting this grand tour of the United States on Facebook, Twitter, and Pinterest. I was intrigued enough to find the list of the specific landmarks and import them in to my own custom Google Map. You could do the same by using this spreadsheet of 50 US Landmarks and import it into your own custom map. The import creates the 50 markers, then you need to add the driving routes, 10 stops at a time because of My Maps limitations.
---
Keywords (Tags) to Group your Pictures with Picasa
Tags are the keywords that you can attach to pictures. They are not meant to be visible. They are meant to give you multiple ways to find and group pictures.
Click here for more Articles by Geeks on Tour
That's all for now. We hope you learned something. Your next issue will be next month. Any questions, please visit our forum. If you like this newsletter, please forward it on to your friends! If you received this issue forwarded by a friend you can subscribe to get your own copy delivered to your in box – it's free. You can also visit the archives of past newsletters,
Happy Computing!
The Geeks on Tour website is an online learning library for Travelers who want to learn to use their computers and mobile devices for managing digital photos, making blogs, using maps and other online resources. Anyone can watch our free videos, read articles on our Computer Tips for Travelers Blog, sign up for our free monthly newsletter, or Picasa weekly tips. A small fee makes you a 'member' and you can then view any of our 260+ video tutorials on these subjects in our Learning LIbrary.
Sincerely,
Geeks on Tour