Monthly Issue # 89 March 31, 2015                                                    www.geeksontour.com
Newsletter Archives ' Become a Member ' Facebook" All Videos ' Subscribe
— Geeks on Tour is member supported.  We do not take advertising or receive funding from any other source. This FREE newsletter is made possible by our paid members.  Member benefits include access to over 300 tutorial videos, a members' Q&A Forum, and Show Notes for our weekly show: What Does This Button Do?.  Join today
If you are already a member, THANK YOU
---
March Travels
Where we've been: For March, we've been in Arizona and California. The month was dominated by 2 big RV rallies: The Escapade in Tucson, and the FMCA Convention in Pomona, CA. During the two rallies, we taught 22 sessions and a total of 2,734 attendees.
We did make time for some sightseeing in between.  We parked for a few days at the Picacho Peak State Park, which was picture-postcard Arizona desert everywhere we looked. We took lots of pictures, and Jim got aerial video with his Quadcopter as well. We also played tourist while passing thru Palm Springs area, and took the Palm Springs Aerial Tramway up a mountain to nearly 9,000 feet.
See our March photo album for more pictures.
Where we're going:  For April we'll be headed back to Florida. As I'm writing this, we are in Malibu, CA overlooking the Pacific Ocean. So we will be traveling from Sea to Shining Sea! See our Calendar/Map page for more details.
By the way, our pictures, Blogs, Web Albums, maps, and videos are all examples of what we teach.  We teach you how to plan, preserve, and share your travels (or your life.)  It makes the experience that much more enjoyable to get creative on the computer and share your travelswith friends and family. Check out our Learning Library of Tutorial Videos. There are plenty of free videos in addition to our members only content to whet your appetite for learning.
---
Coming up in April/May
 April 23: Fairview Texas. We'll be speaking about Picasa at the Heritage Ranch Golf and Country Club Photography Club.
April 26-30: FMCA INTO Area Rally in Shreveport, Louisiana
May: Fort Lauderdale, Florida
---
Q&A Forum
Here are some of the topics that have been discussed this month. Anyone can read the forum, only members can ask questions. This is a valuable benefit of membership!
---
March Excerpts of our What Does This Button Do? Smartphone Educational Show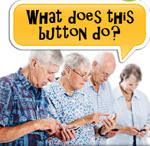 It's an educational show about smartphones and tablets. We deliver it live over the web on Sunday afternoons. Every show is about 40 minutes and it is automatically recorded as a Youtube video – so if you miss it live, no problem.  All the 'reruns' are listed on our Weekly Show Page. Here's a taste of what we taught this month on our weekly shows. Just click the links below and it will take you directly to the spot on the Youtube video on that topic and you should watch about 2 minutes worth.
Click Here for our Next Show: Pictures from Phone to PC
---
Pictures from Phone to PC
Note: this will be the beginner's lesson topic for our upcoming episode 34 "What Does This Button Do?" Internet show.
You have a smartphone (or tablet) and you love taking pictures with it. You've racked up several hundred, maybe even thousands of snapshots and it may even be indicating that it is full! What now? How do you get them onto a computer so you can delete them from the phone?
This article discusses both "Wired" and "Wireless" ways to get those pictures from your phone or tablet to your Computer.
We especially like this nifty device we've found on Amazon that is a dual USB drive. It has both standard USB and micro-USB connectors,
---
7 Tips for Living with Windows 8
It's different. We know. We hear so many people say, "I just don't get along with Windows 8." But, honestly, the different stuff is just an outer shell. With just a few tweaks, you'll be as comfortable as you were with Windows 7.
First, be sure that you've updated to Windows 8.1, then this article discusses the most important things to know about using Windows 8.1 successfully.
The last tip is how to make Windows 8.1 boot to the desktop, almost turning it into Windows 7! Comfortable and familiar once more.
---
Geeks Can Fly!
Like many geeks, I have a fascination with flight.
I got my first "real" Quadcopter for Christmas this past December. I have been interested in remote controlled (RC) aircraft for a long time. I have flown RC planes going back to the old line-controlled planes that only went in circles and made you dizzy. Helicopters are a lot different and much more difficult to learn to fly both in the real world and in the RC world. The newer gyro-stabilized helicopters sold in stores are much easier to master.
This article goes on to discuss various factors of flying and taking video with Quadcopters, aka Drones. It also includes 3 of Jim's videos.
---
Click here for more Articles by Geeks on Tour
That's all for now. We hope you learned something. Your next issue will be next month. Any questions, please visit our forum. If you like this newsletter, please forward it on to your friends! If you received this issue forwarded by a friend you can subscribe to get your own copy delivered to your in box – it's free. You can also visit the archives of past newsletters,
Happy Computing!
The Geeks on Tour website is an online learning library for Travelers who want to learn to use their computers and mobile devices for managing digital photos, making blogs, using maps and other online resources. Anyone can watch our free videos, read articles on our Computer Tips for Travelers Blog, sign up for our free monthly newsletter, or Picasa weekly tips. A small fee makes you a 'member' and you can then view any of our 260+ video tutorials on these subjects in our Learning LIbrary.
Sincerely,
Geeks on Tour