Monthly Issue # 88 February 27, 2015                                                    www.geeksontour.com
Newsletter Archives ' Become a Member ' Facebook" All Videos ' Subscribe
Chris — Geeks on Tour is member supported.  We do not take advertising or receive funding from any other source. This FREE newsletter is made possible by our paid members.  Member benefits include access to over 300 tutorial videos, a members' Q&A Forum, and Show Notes for our weekly show: What Does This Button Do?.  Join today
If you are already a member, THANK YOU
February Travels
Where we've been: For February, we've stayed in Arizona – lucky for us the weather has been the best in the country! Other than one hike, and a couple of hot tub soaks, February has been an all work and no play month. First was the Geek Week at Palm Creek in Casa Grande, AZ. We really like these events! We get to spend time with the same group of folks for a whole week and teach several of our topics. At Palm Creek, we taught Technology for Travelers, Organizing Photos with Picasa, Smartphone and Tablet Tips and Tricks, and Facebook for Travelers. Palm Creek is part of a nationwide network of RV parks called Sun Communities, and they have 16 parks throughout Florida. We're hoping to book a few of our Geek Weeks there next winter. Note: we'll be partial to parks whose name ends in "Creek" … for the rhyming value!
After Palm Creek we presented at the Computer Technology Conferencein Mesa, Arizona. And we finish the month with the big Good Sam Rallyat the Phoenix International Raceway.
See our February photo album for more pictures.
Where we're going:  For March we'll still be busy with Rallies. First comes the Escapade in Tucson, then the FMCA convention in Pomona, CA. See our Calendar/Map page for more details.
​
By the way, our pictures, Blogs, Web Albums, maps, and videos are all examples of what we teach.  We teach you how to plan, preserve, and share your travels (or your life.)  It makes the experience that much more enjoyable to get creative on the computer and share your travelswith friends and family. Check out our Learning Library of Tutorial Videos. There are plenty of free videos in addition to our members only content to whet your appetite for learning.
---
Calendar: Coming up in March/April
Mar 6-7 Camp Reboot Mobile Style – pre Rally to Escapade in Tucson, AZ
Mar 8-11 Escapade in Tucson
Mar 26-29 FMCA Convention in Pomona, CA
April – travel east back to Florida, maybe giving some seminars in Texas and at INTO rally in Shreveport, LA – nothing confirmed yet
For more details, see our website Calendar.
---
Q&A Forum
Here are some of the topics that have been discussed this month. Anyone can read the forum, only members can ask questions. This is a valuable benefit of membership!
---
February Excerpts of our What Does This Button Do? Smartphone Educational Show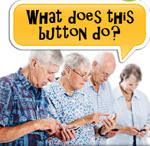 It's an educational show about smartphones and tablets. We deliver it live over the web on Sunday afternoons. Every show is about 40 minutes and it is automatically recorded as a Youtube video – so if you miss it live, no problem.  All the 'reruns' are listed on our Weekly Show Page. Here's a taste of what we taught this month on our weekly shows. Just click the links below and it will take you directly to the spot on the Youtube video on that topic and you should watch about 2 minutes worth.
---
We've been hearing that question a lot lately. If you have a smartphone, like an iPhone or an Android phone, you're paying a cellular company for data usage. You use data whenever you're on the Internet. So, reading emails, watching Youtube videos, using streaming radio apps, and uploading photos to Facebook, are all examples of using up data. We did one of our weekly "What Does This Button Do?" shows just on Data Usage. Click here to watch this 40 minute show. Be aware, if you watch it on a device that is using your Cellular Data connection for the Internet, this will use about 1/3 of a GigaByte of data. If you are a Geeks on Tour member, you also have access to Show Notes that you can read to learn everything that was covered.
In this article we list 7 different things that are known to suck up the data …
---
Roadtrippers for Trip Planning
Ever since the demise of Streets and Trips, we've been looking for a replacement to plan our annual travel route. I really like Roadtrippers, it is a free website – Roadtrippers.com – with companion Apps for both Android and Apple. I used to like the fact that S&T was on my computer and did not need an Internet connection. Roadtrippers does need an Internet connection, but it is surprisingly fast, and the advantages outweigh the negatives for me. It's real claim to fame is the suggestions for things to do and points of interest which I wrote about in a previous article.
This article includes a short tutorial video on using both the Roadtrippers.com website and the mobile App.
---
Hello 1960s, can I have my phone back?
Do you feel weird holding the flat glass surface of a smartphone next to your face? Do you feel even weirder with earbuds in your ears and looking like you're talking to yourself?
A big hit when we present our smartphone seminar is showing how you can use a smartphone, OR a tablet to make a call and feel like you're using Ann old fashioned, comfortable, handset phone.
You can buy these 'retro handsets' at most electronics stores, or online at Amazon. Plug it into the headset jack of your phone or tablet. You can adjust the volume right on the handset. You can also hangup by pushing a button on the handset.
---
Click here for more Articles by Geeks on Tour
That's all for now. We hope you learned something. Your next issue will be next month. Any questions, please visit our forum. If you like this newsletter, please forward it on to your friends! If you received this issue forwarded by a friend you can subscribe to get your own copy delivered to your in box – it's free. You can also visit the archives of past newsletters,
Happy Computing!
The Geeks on Tour website is an online learning library for Travelers who want to learn to use their computers and mobile devices for managing digital photos, making blogs, using maps and other online resources. Anyone can watch our free videos, read articles on our Computer Tips for Travelers Blog, sign up for our free monthly newsletter, or Picasa weekly tips. A small fee makes you a 'member' and you can then view any of our 260+ video tutorials on these subjects in our Learning LIbrary.
Sincerely,
Geeks on Tour