Looking for February's newsletter? Click here.
Monthly Issue # 87 January 31, 2015                                                    www.geeksontour.com
Newsletter Archives ' Become a Member ' Facebook" All Videos ' Subscribe
— Geeks on Tour is member supported.  We do not take advertising or receive funding from any other source. This FREE newsletter is made possible by our paid members.  Member benefits include access to over 300 tutorial videos, a members' Q&A Forum, and Show Notes for our weekly show: What Does This Button Do?.  Join today If you are already a member, THANK YOU
January Travels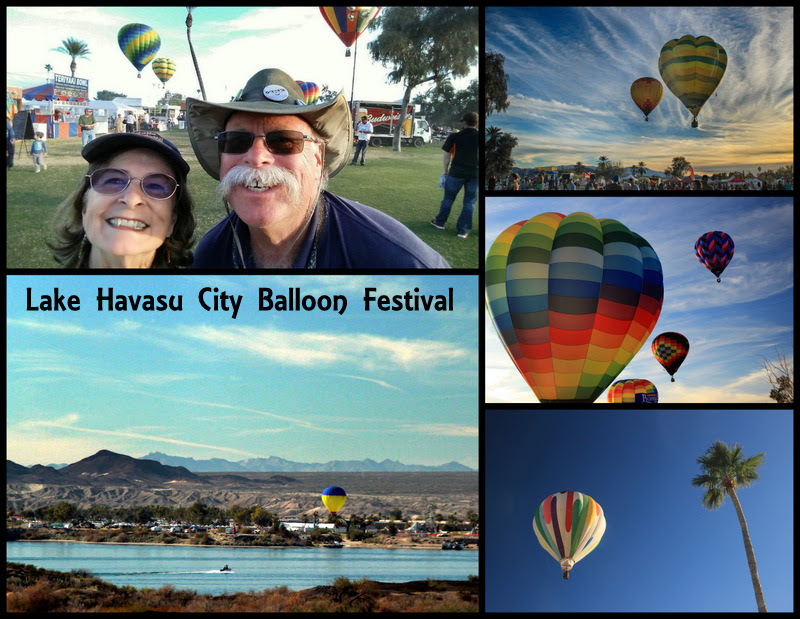 Where we've been: For January, we bounced around between Phoenix and Quartzsite, AZ. We started the New Year right with a soak in our favorite hot springs at Tonopah. Then we found a nice RV park just west of Phoenix where we could hang out and catch up before heading to Quartzsite and our "Geek Week" at the Scenic Road RV park there. We visited friends who were parked on the BLM (Bureau of Land Management) desert land around Quartzsite, but we stayed comfy with full hookups in town. Lots more photos on our Web Albums for January. Check out these videos Jim made using his Quadcopter:
Where we're going:  For February we'll be in Phoenix, AZ. We have several bookings for presenting seminars, ending with the big Camping World/Good Sam Rally at Phoenix International Raceway Feb 26-Mar 1. See our Calendar/Map page for more details.
By the way, our pictures, Blogs, Web Albums, maps, and videos are all examples of what we teach.  If you're a traveler, we teach you how to plan, preserve, and share your travels (or your life.)  It makes the experience that much more enjoyable to get creative on the computer and share your travels with friends and family. Check out our Learning Library of Tutorial Videos. There are plenty of free videos to whet your appetite for learning.
---
Calendar: Coming up in February/March
For more details, see our website Calendar.
---
Q&A Forum
Here are some of the topics that have been discussed this month. Anyone can read the forum, only members can ask questions. This is a valuable benefit of membership!
---
January Excerpts of our What Does This Button Do? Smartphone Educational Show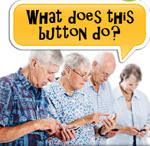 It's an educational show about smartphones and tablets. We deliver it live over the web on Sunday afternoons. Every show is about 40 minutes and it is automatically recorded as a Youtube video – so if you miss it live, no problem.  All the 'reruns' are listed on our Weekly Show Page. Here's a taste of what we taught this month on our weekly shows. Just click the links below and it will take you directly to the spot on the Youtube video on that topic and you should watch about 2 minutes worth.
---
Organize Your Photos! Start Today.
Organizing ALL your photos can be a daunting task. I hear so many people say, "My pictures are just such a mess! I need to clean it up … someday when I have time." We all know that someday never comes. My advice is, don't worry about all your existing pictures. Start with the next picture you take. Develop a system for where you store your pictures from now on. Maybe, someday, you'll go back to your past pictures and clean them up. Meanwhile, starting now, you'll know where your pictures are! If that someday does come, you'll be comfortable with your system and know what you want to do with all those old pictures. I use Picasa (free from Google) as my photo management software on my computer, but the principles in this article apply with other software as well. This article will explore 4 basic steps to organizing your pictures:
---
Don't Worry, Use Dropbox. You'll Have Your Computer Files Anywhere You Go.
Do you worry when you leave home that you may need some files from your home computer? Do you worry when you travel that anything you create on your travel computer may get lost or destroyed before you get back home? Do you worry that the pictures you take with your phone will get lost or destroyed before you are able to transfer them to your computer? Do you worry that the USB drive where you keep your important files will get lost or destroyed, or that you didn't update it with your latest work? Don't Worry! Use Dropbox.
---
When your Tablet Becomes a Brick!
A  couple of weeks ago, I got a system update message on my old Nexus 7 tablet.
Cool, I thought. Android 5 Lollipop!
Not so cool. After that, my tablet was indistinguishable from a brick. Here's the story of how it was resurrected.
---
That's all for now. We hope you learned something. Your next issue will be next month. Any questions, please visit our forum. If you like this newsletter, please forward it on to your friends! If you received this issue forwarded by a friend you can subscribe to get your own copy delivered to your in box – it's free. You can also visit the archives of past newsletters,
Happy Computing!
The Geeks on Tour website is an online learning library for Travelers who want to learn to use their computers and mobile devices for managing digital photos, making blogs, using maps and other online resources. Anyone can watch our free videos, read articles on our Computer Tips for Travelers Blog, sign up for our free monthly newsletter, or Picasa weekly tips. A small fee makes you a 'member' and you can then view any of our 300+ video tutorials on these subjects in our Learning LIbrary.
Sincerely,
Geeks on Tour