Monthly Issue # 86 December 31, 2014                                                    www.geeksontour.com
Newsletter Archives ' Become a Member ' Facebook" All Videos ' Subscribe
— Geeks on Tour is member supported.  We do not take advertising or receive funding from any other source. This FREE newsletter is made possible by our paid members.  Member benefits include access to over 400 tutorial videos and a members' Q&A Forum. Join today If you are already a member, THANK YOU – we love answering your questions in the forum.
---
December Travels
Where we've been: The entire month of December was spent in Casa Grande, AZ at a big RV Park called Palm Creek Golf and RV.  We taught a total of 13 different seminars here. It was great to see some old friends from our 2005 and 2008 stays. We're thrilled to see that Sue Hepler has been keeping up her Palm Creek Update Blog that was started last time we were here. And, we loved going hiking with Skip Emerson and the hiking club. See our December photo album for more pictures.
Where we're going:  For January we'll mostly be in Quartzsite, AZ. We have a few seminars scheduled, then we'll see if we can find some friends parked out in the open desert. That's what thousands of RVers do in Quartzsite in January and February See our Calendar/Map page for more details.
By the way, our pictures, Blogs, Web Albums, maps, and videos are all examples of what we teach.  If you're a traveler, we teach you how to plan, preserve, and share your travels.  It makes the experience that much more enjoyable to get creative on the computer and share your travels with friends and family. Check out our Learning Library of Tutorial Videos. There are plenty of free videos to whet your appetite for learning.
---
2014 in Review
During the year we presented a total of 86 seminars at 27 different events with a grand total of about 3500 attendees. We also webcast 24 episodes of our "What Does This Button Do?" show. Click on this map and you'll be taken to a full-screen version where you can click on the markers and see pictures and descriptions of these stops. If you want to learn how to make a map like this, it's using Google's My Maps and we have videos in the Google Maps section of our Tutorial Videos.
Calendar: Coming up in January/February
For more details, see our website Calendar.
---
Aerial Video with Jim's new Quadcopter
How cool is that? To be able to get aerial photos and video while you stay on the ground.
Check out this video: Jim's first flight with his new quadcopter.
But what you really gotta see is this one: Jim's second flight – and first crash – with his new quadcopter!
By the way, if you want to make videos like this, you can learn Movie Maker from our tutorial videos.
Tutorial Videos on Using Movie Maker
---
Q&A Forum
Here are some of the topics that have been discussed this month. Anyone can read the forum, only members can ask questions. This is a valuable benefit of membership!
---
Are you a Beginner?
We've had the opportunity this month to teach several seminars to small groups. This way we get to hear more of their questions and we were reminded that most people our age never had any basic instruction on these things. Most everything they know is self-taught. The most pressing questions were on files and folders. "Where ARE my files?!" "What IS a Folder?"
If that describes you, and you are using a computer – not just smartphones and tablets – we highly recommend you spend some time understanding Windows Basics.
---
December Excerpts of our What Does This Button Do? Smartphone Educational Show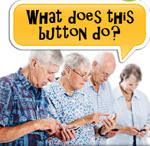 It's an educational show about smartphones and tablets. We deliver it live over the web on Sunday afternoons. Every show is about 40 minutes and it is automatically recorded as a Youtube video – so if you miss it live, no problem.  All the 'reruns' are listed on our Weekly Show Page. Here's a taste of what we taught on our weekly shows. Just click the links below and it will take you directly to the spot on the Youtube video on that topic and you should watch about 2 minutes worth.
Excerpts from Episode 21:
Swype trick to capitalize first letter of words.
Options for viewing iPad notifications
Excertps from Episode 22:
Adding a photo to a contact when you don't even have a photo?!
Tip for taking Panorama pictures
Excerpts from Episode 23:
Setting Ringtones on Android
How to share a contact
Excerpt from Episode 24:
Using Bluetooth for Sound to go thru your radio
---
Video Calls with Smartphones and Tablets
I know a lot of travelers who depended on video calls to be with their families this Christmas. It's hard to believe, but video calls are easy now. Sometimes even easier than making regular phone calls. For those of us who grew up watching the Jetsons, it took nearly 40 years, but video calls have finally arrived. Using any of the Apps below, making a video call is as simple as opening the App and tapping the icon for the person you want to reach and tapping the video button. And … this is free to anywhere in the world as long as the person on the other end is also using an App with an Internet aka "Data" connection and not a phone with a voice connection.
This article covers Apple's Facetime, Microsoft's Skype, and Google's Hangouts.
---
Pictures Look SO Good with Google+ Photos!
Read this article to see why we like Google+ Photos so much.
---
Boosting your Wi-Fi
Our friends at TechnoRV have written a helpful booklet titled: Guide to Boosting your RV's WiFi. It's a quick read with plenty of pictures. You will understand a lot more of what's involved in connecting to a Wi-Fi hotspot so you can be an educated consumer. The booklet also details the 3 levels of solutions that TechnoRV sells. We know that they use everything they sell and they know what they're talking about..
Get the Guide to Boosting your RV's Wi-Fi
That's all for now. We hope you learned something. Your next issue will be next month. Any questions, please visit our forum. If you like this newsletter, please forward it on to your friends! If you received this issue forwarded by a friend you can subscribe to get your own copy delivered to your in box – it's free. You can also visit the archives of past newsletters,
Happy Computing!
The Geeks on Tour website is an online learning library for Travelers who want to learn to use their computers and mobile devices for managing digital photos, making blogs, using maps and other online resources. Anyone can watch our free videos, read articles on our Computer Tips for Travelers Blog, sign up for our free monthly newsletter, or Picasa weekly tips. A small fee makes you a 'member' and you can then view any of our 260+ video tutorials on these subjects in our Learning LIbrary.
Sincerely,
Geeks on Tour