Monthly Issue # 75 January 1, 2014                                                    www.geeksontour.com
Newsletter Archives ' Become a Member ' Facebook" All Videos ' Subscribe
— This FREE newsletter is made possible by our paid members.  Membership also gives you access to over 260 tutorial videos and a members' Q&A Forum.  Join today!
If you are already a member, THANK YOU – we love answering your questions in the forum.
January: Staying Warm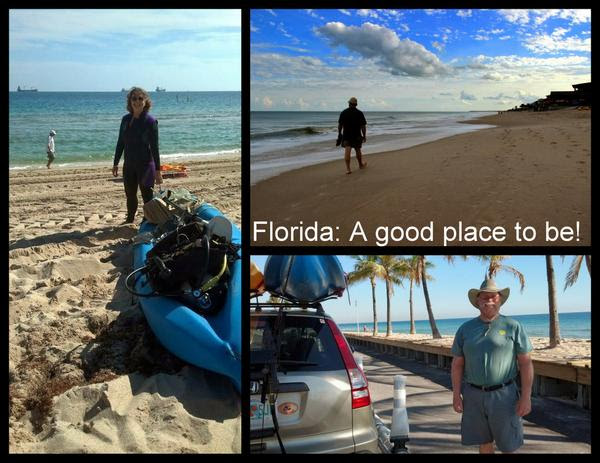 It's now the end of January and our motorhome is still in the shop.  Fortunately, we have a nice place to stay in Fort Lauderdale.  I don't expect anyone to feel sorry for us when you look at this collage of beach photos!  Especially when most of the country is in a deep freeze. We've even enjoyed a couple days of our favorite activity … Kayak Diving!
If you want to read more about people RVing, you might want to check out the Top 50 RV Blogs.  They name us as well as 49 other blogs by RVers, many of whom we know.
We did do a few seminars at Computer Clubs around Florida, as well as two online Hangouts.  In one hangout we interviewed our friend Phil May of TechnoRV who joined us from England and spoke about traveling in Europe and getting connected to the Internet.  In another, we joined with Robin Seaver and Honey Burt of Sun City Hilton Head Computer Club and we offered some tips and tricks with smartphones. Click on the links to watch these hangouts now.
Calendar: Coming up in February/March
For more details, see our website Calendar.
Q&A Forum
Some Geeks on Tour members tell us that the Q&A forum is worth the entire cost of membership!  Here are some of the topics that have been discussed this month:
Saving Google Maps Directions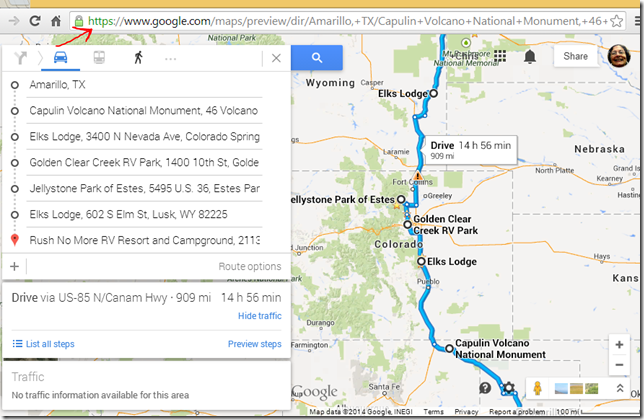 Let's say you were planning on doing an RV trip in the same area that we traveled thru last year.  I might want to send you a detailed list of directions of where we went, and where we parked the RV.
You can easily create multiple destination directions using Google Maps, In the previous version of Google Maps, at the very bottom of the detailed directions, there was an option to "but how do we keep these directions?  How can I share them with you?.
Trouble Viewing Videos?  Try VLC
I'm not just talking about Geeks On Tour Videos, I'm talkingabout ANY video or audio format you want to play on your computer. I use VLC all the time on my computer.
If you are having problems playing multimedia files, install VLC. I bet it will work for you.
RV Travel Newsletter by Chuck Woodbury
Blogger and Pictures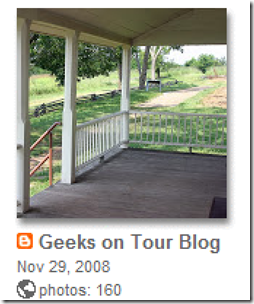 Blogger makes it very easy to add pictures to your blog or web page.  All you need to know is where the picture is that you want to add.  Is it on your computer?  Or is it on the web?  Keep reading and we'll tell you how to do it.  If you prefer that we "Show You How," we have a couple of tutorial videos you can watch that show exactly what we mean.
This article explains the 6 options offered by Blogger to Insert Images into your blog posts:
Upload
From this Blog
From Picasa Web albums
From your phone
From your webcam
From a URL
That's all for now. We hope you learned something. Your next issue will be next month. Any questions, please visit our forum. If you like this newsletter, please forward it on to your friends! If you received this issue forwarded by a friend you can subscribe to get your own copy delivered to your in box – it's free. To see the archives of past newsletters, go to https://geeksontour.com/category/newsletter/.
Happy Computing!
The Geeks on Tour website is an online learning library for Travelers who want to learn to use their computers and mobile devices for managing digital photos, making blogs, using maps and other online resources. Anyone can watch our free videos, read articles on our Computer Tips for Travelers Blog, sign up for our free monthly newsletter, or Picasa weekly tips. A small fee makes you a 'member' and you can then view any of our 230+ video tutorials on these subjects in our Learning LIbrary.
Sincerely,
Geeks on Tour